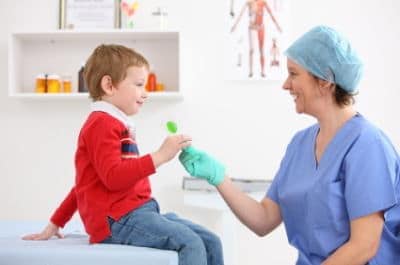 Show Your Appreciation On National Nurses Day
Nurses are very important to us, but they are especially important to all of the Make-A-Wish Wish Kids who are battling critical illnesses. Nurses brighten the lives of their child patients and do so much for everyone, so it makes total sense that we would set aside a specific day to honor them for all their endless hard work!
Monday, May 6 is National Nurses Day, otherwise known as National RN Recognition Day. The day opens National Nurses Week which runs through May 12. The week-long celebration was started in honor of English nurse Florence Nightingale, who was born on May 12.
For good reason, National Nurses Week is one of the nation's largest health care events! Celebrations include banquets, recognition dinners, city and state proclamations, education seminars, and community events.
Because nurses are so important to us, we would like to give you some ideas for how you can honor the nurse in your life. We hope you enjoy our ideas for giving back to your community and making your nurse feel appreciated!
Time To Give Back
Even if you don't have a nurse that you see regularly, you can still brighten the day of a nurse at your local clinic or hospital. Otherwise, chances are that you know of a nurse somehow, whether it's a family member, a friend, or your neighbor. Whether you are close to the nurse in your life or not, there are so many things you can do to make a nurse feel appreciated on their special day or week:
Deliver flowers to the clinic the nurse works at

Mail or hand deliver a card to wish them a happy Nurse's Day, or simply send a thank you note that thanks them for their time

Bring a batch of cookies to the clinic and let the receptionists know that they are in honor of Nurse's Week

Host a "Nurse Appreciation Party" if you have a nurse in your family or close group of friends. If you know several nurses on a person level, be sure to invite them all to celebrate!

After your next visit to see a nurse, remember to give them a polite "thank you". Since nurses work such varied and long hours, they can sometimes feel unappreciated or overworked. Show your appreciation and let them know that you care and are thankful!
Nurses Week Deserves Celebrating
Nurses work a great deal with Make-A-Wish Wish Kids. They personally get to see the impact of a wish granted and see that it fills a child's life with hope, strength, and joy. At Wheels For Wishes, we are so thankful for all of the nurses out there and how they work endlessly to improve all of our lives—especially the lives of Make-A-Wish Wish Children.
In honor of nurses and Make-A-Wish Wish Kids, consider donating a car, truck, SUV, RV, motorcycle, or boat. When you donate a vehicle to Wheels For Wishes, benefiting Make-A-Wish, you are helping to grant the wish of a local child in your community. Nurses love to see their child patients with a smile on their face, and your generous car donation can do just that.
To donate a vehicle to Wheels For Wishes, simply call 1-855-278-9474 or fill out our easy online automobile donation form. Both ways only take a moment of your time but will leave you with a great feeling that won't go away. Most importantly, it will grant the wish of a local child and change their life forever!