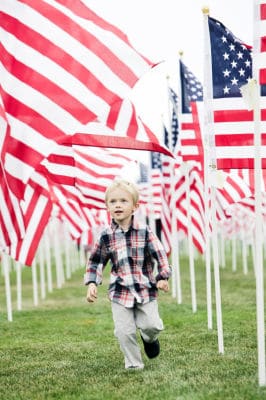 Meaningful Ways To Spend Memorial Day With Your Family
For many Americans, Memorial Day is best remembered as the first day of summer. But it's important to take a moment this day to reflect on, remember, and honor the men and women who have given their lives serving this country. Whereas Veterans Day, celebrated in November, is meant to focus on honoring the veterans of wars, Memorial Day is a more somber day because it focuses on honoring those who have lost their lives. The real meaning of Memorial Day can be a difficult topic to discuss with your children, but without an understanding of the day's significance, it's possible that it will be forgotten. Memorial Day weekend is, of course, a wonderful time to spend an extra day or two of vacation with family, celebrating time spent together. There are many simple, engaging, and fun ways to still spend that time together as a family while also honoring fallen military members in the true spirit of the holiday. 
Five Ways To Honor The Day
We've compiled a list of activities that you and your kids can do together this year for Memorial Day. We hope these things will be fun and create an opportunity to talk about what it means to reflect and show gratitude this holiday.
There are tons of patriotic craft projects that kids will love to make. Some of our suggestions are painting a plant pot red white and blue, making a paper pinwheel, or making a wind sock. For more fun craft ideas, check out this Memorial Day Activities board on Pinterest.
Bake cookies together and spend some time making handmade cards for veterans in a VA hospital. Memorial Day is an opportunity to let former service members know you're thinking of them and are grateful for their service. Hand-delivering your cards and cookies would be the perfect opportunity to talk with someone firsthand about the meaning of Memorial Day!
Attend a local parade. Many towns across the country have their own Memorial Day parade. To see if there's one in your area, use the Vet Friends Memorial Day Parade directory.
Observe the National Moment of Remembrance. At 3 p.m. (your local time) on Memorial Day, the Moment of Remembrance is one minute of silence in which you pause your activities to quietly reflect and remember.
Fly a flag to show patriotism. The Department of Veterans Affairs website has resources explaining how to display a flag both on Memorial Day and on any day of the year.
Explaining Memorial Day's real meaning can be difficult, but this article from education.com offers some great tips for what you can do to help kids grasp the importance of this day.
Spread Hope, Strength, And Joy This Memorial Day
Showing gratitude, celebrating freedom, and giving your time or thanks to others are all things to embrace this Memorial Day. In addition to thanking veterans, attending a parade, or observing a moment of silence, one way you can show gratitude today is to consider donating a vehicle to Wheels For Wishes in honor of a child in your community who is battling a critical illness. Simply call 1-855-278-9474 or fill out an online vehicle donation form.
The proceeds from your vehicle donation will benefit your local chapter of Make-A-Wish, helping to grant the wish of a child in your community. For a child, a granted wish brings an increased feeling of hope, joy, and strength, which enriches the human experience as a whole. Your generous vehicle donation can make that happen!