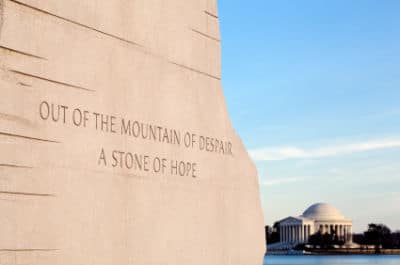 Fighting The Winter Blues? Let These Martin Luther King Jr. Quotes Inspire You
Winter can be a difficult time of the year for many, after hours or days of being cooped up inside with little to no sunlight. If you are battling the winter blues and need a little pick-me-up, maybe participating in Martin Luther King Jr. Day will help. First, check out some of these inspiring quotes from Dr. Martin Luther King Jr., and find out how you can get involved in an event in your city!
These Quotes Will Lift Your Spirits
Whenever you are in a tough situation, think of these great words of wisdom from Dr. Martin Luther King Jr.:
"Faith is taking the first step even when you can't see the whole staircase."

"Freedom is never voluntarily given by the oppressor; it must be demanded by the oppressed."

"If a man is called to be a street sweeper, he should sweep streets even as Michelangelo painted, or Beethoven composed music or Shakespeare wrote poetry. He should sweep streets so well that all the hosts of heaven and earth will pause to say, 'Here lived a great street sweeper who did his job well.'"

"Darkness cannot drive out darkness: only light can do that. Hate cannot drive out hate: only love can do that."

 "If you can't fly then run, if you can't run then walk, if you can't walk then crawl, but whatever you do you have to keep moving forward."

"Injustice anywhere is a threat to justice everywhere."

 "There comes a time when one must take a position that is neither safe, nor politic, nor popular, but he must take it because conscience tells him it is right."

 "Only in the darkness can you see the stars."
Feel Inspired? Give Back To Your Community
Giving back is always a great way to beat the winter blues. However you choose to give back, your actions will make a difference in the world around you. Consider volunteering at a local animal shelter or nursing home, or donating any items at home that you no longer need. If you have an unwanted vehicle that you no longer want or need, consider donating it to Wheels For Wishes.
Wheels For Wishes benefits Make-A-Wish and will pick-up or tow your vehicle donation at no cost to you! Plus, you donation is tax deductible and will help make wishes come true. Donate cars, trucks, boats, or motorcycles by calling 1-855-278-9474 or filling out our online vehicle donation form.
If you are looking for other ways to give back and make a difference, visit volunteermatch.org. 
Participate In Martin Luther King Jr. Day
Martin Luther King Jr. Day is Jan. 19 and there are plenty of ways to participate and make a difference. Martin Luther King Jr. Day is a Day of Service, which calls for Americans from all walks of life to work together to provide solutions to our most pressing national problems.
During last year's events, more than 15,000 economically disadvantaged people received job placement, financial literacy, and job skill development training. More than 38,000 veterans, military families, and active duty military service members received assistance, and more than 58,000 children and teens were tutored or mentored. More than 100,000 people received training in preparing for disaster response and recovery, and 360,000 people received emergency food.
If you'd like to get involved in an event in your city, or maybe you'd like to register your own event, check out these Toolkits. Search for open volunteer opportunities by entering your city, state, or zip code under the Find Opportunities Now section.
As Martin Luther King Jr. once said, "Life's most persistent and urgent question is, 'What are you doing for others?'"