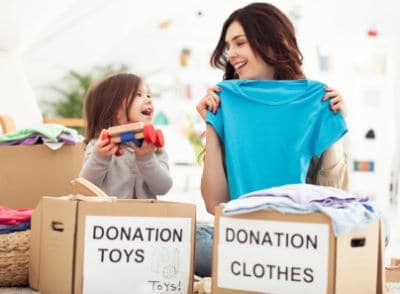 Decide How You Will Make A Difference This Year On Make A Difference Day
October is more than candy and fun costumes – it's actually an important time to give back to your community and make a difference in the world around you! For more than 20 years, Make A Difference Day has been a day where volunteers of all ages get together to make a difference in the world. This year, that day falls on Saturday, Oct. 26. Take a break from Halloween and instead, spend a few hours giving back to your community!
Join Your Community In Making The World A Better Place
No matter how old or how young a person is, volunteers can come together to take part in projects all over the world. Projects include food or toy drives, park clean-ups, or helping to prepare, serve, and clean-up meals for those in need. However, other project ideas are welcome and can be registered at the event website. Simply create an account and get started! You can also search for available projects in your area by entering your zip code and the maximum distance you are willing to travel.
Sponsored by USA WEEKEND Magazine and Points of Light, the largest national day of community service brings together millions of people around the world to take part in something bigger and better. Volunteers may help to clean up parks and playgrounds, paint or repair fences, plant trees and remove brush, among many other things. Each and every activity makes a difference. Plus, it helps to bring groups of all ages together and gives people a chance to get involved in the community.
Share Your Experiences And Encourage Others To Get Involved
Gather your friends and family and help to make a difference on Oct. 26. Not only will you have a blast with whichever project you choose, but you will be giving back to your community.
During the event, be sure to take pictures and videos of you and other volunteers, and share your experiences through social media. Help spread the word about the importance of Make A Difference Day by sharing your photos on the Make A Difference Day Facebook and Twitter pages.
It's Easy To Give Back To Your Community
If you are unable to participate in this year's Make A Difference Day, consider giving back to your community in other ways. Whether you choose to volunteer your time by walking dogs at a local animal shelter or helping to serve Thanksgiving dinner at a local soup kitchen, you can give back to your community and help to make it a better place. 
Another way to give back to your community and make a difference in the world is through car donation to Wheels For Wishes, benefiting Make-A-Wish. Not only is car donation fast, convenient, and free, but it helps Make-A-Wish grant wishes of local kids in your community while also contributing to the green movement. Car donation is kind, generous, and even eco-friendly. Plus, you get a great tax deduction.
It's easy to give back to the community you live in, whether you participate in Make A Difference Day or you choose to donate an unwanted vehicle to Wheels For Wishes. To donate a vehicle, please call 1-855-278-9474 or fill out our easy online vehicle donation form.
How will you make a difference this year on Make A Difference Day? Let us know by leaving a comment on our Facebook and Twitter pages!