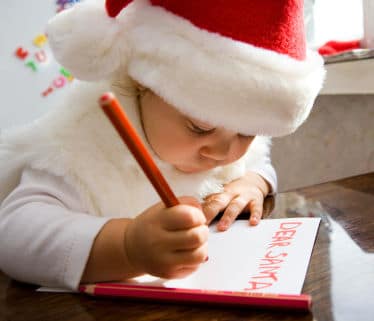 Benefit Make-A-Wish This Christmas Just By Writing A Letter To Santa
Beginning November 6th and going through December 31st, 2012, kids and adults from all over the country can write their letters to Santa while also making dreams come true at the same time. It really is that easy to make wishes come true, and it allows you to participate in a fun tradition that everyone loves. Writing your letter to Santa ensures that a child's wish will be granted this Christmas and it's something you will be glad about participating in. Your own wishes can help Make-A-Wish grant wishes for kids all over the country this Christmas season.
Write Your Letter To Santa To Make Dreams Come True This Christmas
To help make wishes come true this Christmas, just write your letter to Santa and then seal it up and place a stamp on it. Address your letter to Santa at The North Pole and drop it off at Macy's Santa Mail letterbox. It's easy and for each letter received, Macy's will donate $1 to Make-A-Wish, up to $1 million!
Whether you're a kid or an adult, it's always fun to write up a wish list during the Christmas season. The list could take many forms, whether it's a letter addressed to Santa, a simple list typed up on the computer and handed to a friend, family member, or spouse, or a quick scribble on a napkin. When you participate in Macy's Believe, you are not only wishing for yourself this Christmas, but you are wishing to help a child as well.
Create Your Personalized Letter 
When you visit the Macy's Believe website, you can type up your letter there and even decorate it to make it look exactly how you imagine your letter to Santa to be. You can choose your own font color, pick from many pictures and icons, and even draw your own images if you prefer. You can even download Santa stationary if you'd like. The whole process is made fun and creative, but you are certainly welcome to use the pen and paper technique if that's the tradition you prefer. If you do choose to create your letter on the computer, then just print it out when you're done and then you're ready to seal it up and drop it off at Santa's Mailbox.
Drop Your Letter Off In Santa's Mailbox And It Will Be On Its Way To The North Pole
Santa's Mailboxes are located at every Macy's store across the country, so drop your letter inside and Macy's will make sure they are all delivered to the Post Office and sent on their way. You can be a part of all the magic of Macy's, and you, along with other participants, can make wishes come true this Christmas. With that kind of magic, who could not believe in Santa? Now is your chance to ask Santa for a new car so you can donate your old car to Wheels For Wishes, benefiting Make-A-Wish.