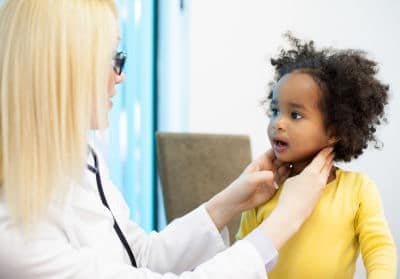 Learn About Thyroid Health This January
Thyroid disease is more common than diabetes or heart disease, but not as many people are aware of it. Up to 30 million Americans suffer from a thyroid condition and more than half of these people's condition is undiagnosed. It's also important to know that getting older is one of the main risk factors for thyroid conditions, but children can develop thyroid health problems as well.
With January being Thyroid Awareness Month, it's the perfect time to learn more about thyroid health for your family.
How Important Is The Thyroid?
The thyroid gland is located in your neck below the Adam's apple. It produces the thyroid hormone, which controls or plays a part in almost every function of your body. Thyroid health problems can cause the gland to produce too much or too little of the thyroid hormone.
When the gland produces too much of the hormone, this is called hyperthyroidism. This condition causes the body's systems to run faster than normal. When the thyroid gland produces too little of the hormone, it is called hypothyroidism. This causes the body's systems slow down.
Thyroid health problems are important because, left untreated, they can lead to high cholesterol levels, which in turn increases one's risk for heart disease. An untreated thyroid disease can also lead to infertility and osteoporosis.
There is also a genetic link between thyroid diseases and other diseases such as diabetes, anemia and arthritis. For this reason, it's important to know whether you have or may be at risk for thyroid disease.
Symptoms Of Thyroid Disease
The symptoms of thyroid problems can vary based on whether a person has an over- or under-active thyroid. Common signs of thyroid disease include a swelling in the neck, changes in heart rate or hair loss.
Symptoms of hypothyroidism can include feeling fatigued all the time, weight gain, chills, and feeling as if your brain is in a fog. Symptoms of hyperthyroidism, on the other hand, are losing weight or feeling overly energetic, sweaty or anxious. Keep in mind that these symptoms can be related to other things, but it's still important to have them checked out by a doctor.
People who are at an increased risk for thyroid disease are those with a family history of the disease, people taking the prescription medications Lithium or Amiodarone, and those who have undergone radiation treatments to the neck or head. One of the best ways to know for sure if you have thyroid disease is to have your doctor perform a thyroid-stimulating hormone test.
2 Ways To Make A Difference This January
Thyroid disease doesn't get as much attention as heart disease, diabetes or other major diseases. Because of that, you can make a huge difference just by spreading the word to your family and friends or sharing resources like this blog on social media.
You can also help kids with serious medical conditions by donating a car to Wheels For Wishes. Our car donation program benefits local chapters of Make-A-Wish and other children's charities. The proceeds from your car donation help your local chapter help more kids who are living with critical illnesses. Be the reason a kid smiles today and donate your car to Wheels For Wishes!
Car donations are easy to make with our online form or by calling 1-855-278-9474. Our representatives are here to help with any questions you may have about donating to Wheels For Wishes!