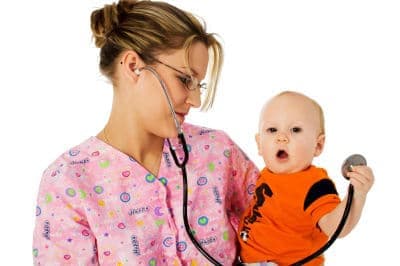 Celebrate National Infant Immunization Week By Spreading The Word
Since 1994, the last week in April has been celebrated as National Infant Immunizations Week in the United States. This year National Infant Immunization Week is held from April 16-23, the same week as World Immunization Week. The World Health Organization promotes in all of its six regions access to universal vaccination and international cooperation. NIIW serves many purposes, including as a call to action for all parents and healthcare providers to continue the use of vaccinations with children, to share information about protecting our kids in order to keep healthy and safe communities, and to celebrate the importance of vaccinating infants from preventable diseases.
There have been many achievements due to vaccinations. For example:
Infants and kids are now protected from 14 vaccine-preventable diseases before their second birthday.
In the 1950s, nearly every child contracted measles, and some even died from it. It's a serious disease. Today, many physicians who have been practicing for many years have never seen a case of measles.
Children born between 1994 and 2013 who received vaccinations will prevent around 322 million illnesses, 21 million hospitalizations, and 732,000 deaths during the course of their lives.
Vaccines And Dangerous Myths
There are many individuals and communities that fear vaccines because they believe in the mythical consequences of keeping their children safe from preventable diseases. For example, it's a complete myth that vaccinations cause autism. There has never been a study to show that this was the case. The rumor started in the late 1990s in a news story that purposed that theory. However, that article was not a scientific study and was only written to hypothesize. Autism is a genetically linked disorder. It is likely that children are born with autism because they develop it during the gestation period in the womb.
Yet that unproven paper has continued to scare thousands of Americans into not vaccinating their children. The result of fewer children with immunization protection led to the measles outbreak in the United States in 2008 and 2014. In 2014, The United States experienced a record number of cases of measles, 667 reports from 27 states. This was the greatest number of measles reported since it was eliminated in the United States in 2000.
It is not just dangerous for you and your kids to not get the immunizations to prevent these awful illnesses. You're not just making that decision for yourself, you are making it for every child in your community who interacts with your kid. Not vaccinating can put kids at risk who are unable to get immunizations, which includes hundreds of thousands of kids undergoing chemotherapy and steroid treatment for asthma. You are also putting at risk the children who are too young to receive certain vaccinations. We need to keep our society protected by relying on herd immunity, that is, that every child who can be is vaccinated. Immunization is a shared responsibility. Families, healthcare professionals, and public health officials must work together to help protect the entire community.
Still-Relevant Immunizations
Because we've been so successful with vaccinations, we often forget how bad these diseases really are. There are many young doctors who haven't been trained in how to deal with illnesses such as mumps, or how to recognize the symptoms. Older doctors who would be able to recognize the symptoms in a child and would have studied how to treat them are heading into retirement. These diseases are really just "sleeping giants." If we don't continue to vaccinate, we will see these diseases again in the United States.
There is no evidence that there is any negative side-effects to vaccines (other than a minor fever in some cases, or temporarily reddened skin) or that they cause developmental issues. They have been thoroughly tested so that they can be proven to be non-toxic and completely safe for healthy babies. In fact, it's important to vaccinate your baby as early as two months of age, because newborns are the most susceptible to diseases that vaccines prevent. We have to prevent a major outbreak or an epidemic by sharing only accurate information with mothers of newborn children.
This Week Is Important
National Infant Immunizations Week highlights the dangers of vaccine-preventable diseases, especially to babies and young kids. It focuses on the risk of acquiring these diseases, and demonstrates that the risk of these diseases is much higher than any risk associated with vaccines. Today, we have better science and better technology than ever before. We have the chance to protect our entire society by choosing to vaccinate our infants as soon as they are old enough to receive immunizations.
Other Ways To Support This Week
Each year, many kids are affected by some sort of serious or chronic medical condition. Donate your car, and you can help provide these kids with a better life. Donate a car, truck, motorcycle, boat, or camper and let Wheels For Wishes turn your vehicle into hope for your community.
Donate your car to Wheels For Wishes, and it will support children's charities in your area. See which charity your donation will benefit by checking out our Chapter Locator. When you donate a car, truck, boat, or motorcycle to Wheels For Wishes, you will receive free pick up or towing of your vehicle. To make a car donation, simply call 1-855-278-9474 or make your donation online.
Help to support children's charities by donating your vehicle to Wheels For Wishes.