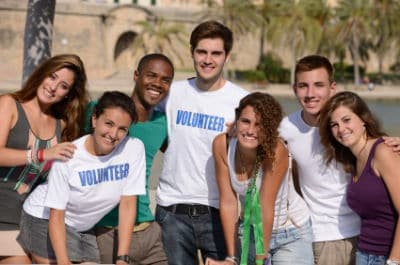 How You Can Become A Make-A-Wish Wishmaker On Campus
Being a college student means busy schedules filled with homework, studying, and socializing with friends. However, when you add dealing with a broken down car or car repairs to that list, things can become even more hectic.
Busy schedules or not, college students can still give back to their communities and help Make-A-Wish in a few different ways, starting with donating that car that isn't worth the hassle. Through the Make-A-Wish car donation program, Wheels For Wishes accepts donated cars and recycles or auctions them off to benefit Make-A-Wish. Donate cars of all makes, models, colors, or sizes, and each and every vehicle will make a difference in the life of a child.
If you are a student who doesn't have a vehicle to donate just yet, and maybe you have some free time that you are looking to put to great use, consider getting involved with the Make-A-Wish Wishmakers on Campus program. Students will work together to coordinate fundraising campaigns for Make-A-Wish, which will help to grant the wishes of kids battling a critical illness.
If you are already a part of a student organization or sports team, this is the perfect opportunity to get your organization involved in the Make-A-Wish Wishmakers on Campus program. Students are given the opportunity to organize, raise funds, and manage the program with the help of students or advisors.
Busy Schedules Or Not, You Can Help Grant Wishes
You may be familiar with several of the Make-A-Wish promotions, such as Walk For Wishes, Kids For Wish Kids, Wishmakers at Work, Monthly Giving, Donate Airline Miles, or Planned Giving, but there's another Make-A-Wish program that also gets kids involved in the wish-granting process. The Make-A-Wish Wishmakers on Campus program allows college students to form committees where they can come up with fundraising ideas for their local Make-A-Wish chapter. Since students have now gone back to school and are back in the swing of things, this could be the perfect opportunity for them to get involved in the community while helping their local Make-A-Wish chapter at the same time.
It's Easy To Get Started
With your help, you can help raise awareness about Make-A-Wish and their mission to help local kids all over the country. Your involvement helps to create school spirit while also getting you and your classmates involved in the community. Plus, students will feel great knowing that they are helping local children who need it.
To learn about getting involved in your local Make-A-Wish chapter's Wishmakers on Campus program, or to learn how you can start a program for your local chapter that isn't listed, please contact your local Make-A-Wish chapter. 
Help Create Joy In Your Community
Students will find the Make-A-Wish Wishmakers on Campus program to not only be a rewarding experience, but also loads of fun. Many students have put together dance marathons, Walk For Wishes events, contests, cook-offs, and many other fun activities. For a full list of projects that students have organized, please visit the Project Ideas page.
Contact your local Make-A-Wish chapter today and learn how you can get your college organization involved in the exciting Make-A-Wish Wishmakers on Campus program. When the time is right, be sure to donate your unwanted vehicle to Wheels For Wishes, benefiting Make-A-Wish. Why be a busy college student with car repairs or a car that barely runs? Instead, put it to better use, help a local child, and get a great tax deduction.
To donate a vehicle to Wheels For Wishes and to help grant wishes for kids in your community, please call 1-855-278-9474 or fill out our online vehicle donation form. To learn about other ways where you can help your local Make-A-Wish, visit the Ways To Help page on the Make-A-Wish America website. To find other volunteer opportunities in your community, you can also visit the VolunteerMatch website.