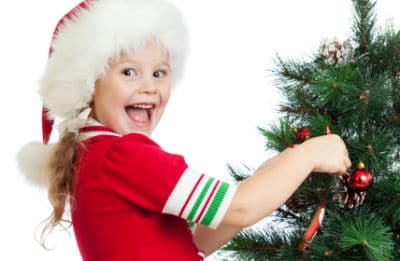 How To Recycle Your Holiday Decorations
After the holidays are over, the last thing you probably want to do is clean up the decorations you spent hours putting up. It's never as much fun to put things away, which is why it might be so tempting to just throw things out and start over fresh each year. A better way is to recycle and reuse your old decorations that you can't necessarily save and reuse in the same way next year. And if you haven't already, check out our tips for recycling your Christmas tree.
Greeting Cards
Greeting cards seem to get more and more intricate each year, making the reuse possibilities even more fun. If you have a circular paper punch, you can cut out the pictures and use them as festive Mason jar lid covers for the next holiday season. Circles can also be glued together at the edges to create paper ornaments such as the ones in this tutorial. If you have a rectangular or tag-shaped punch, you can make gift tags for next year's presents.
If that's a little too crafty, you can also donate a stack of greeting cards to the St. Jude's Ranch for Children charity. They recycle the pictures onto new cards, which are then sold to benefit children's programs.
Burnt Out Light Strings
Christmas lights seem pretty worthless once they burn out, but they're actually a highly recyclable commodity. Light strings are made mostly from plastic, copper, plastic, and sometimes glass for older bulbs. Check to see if there are any string light recycling bins in your area around the holidays and drop off any broken strings there. Otherwise, Holiday LEDs is a company that will accept your broken lights in the mail. 
If you have a string with big glass bulbs, consider saving them for a craft project and recycling the string. They can be attached to a wire frame to make a unique wreath, or you could paint miniature winter scenes on them and hang them on the tree next year as ornaments.
Plastic Yard Décor
Plastic decorations are notoriously difficult to dispose of in a responsible way. Unlike plastic containers that have a handy number on the bottom telling you which type of plastic you have, decorations are much trickier to categorize. You might be lucky enough to find a number on the bottom, in which case you can throw broken or unwanted plastic decorations in the right recycling bin for that number of plastic. However, many plastic decorations are a mixture of more than one type of plastic, making it impossible to dispose of them through regular recycling.
If your decorations are broken, see if you can do a repair before throwing it out. Otherwise, items in good condition that you simply don't want anymore can be donated to a secondhand store. If those options don't work, see if your plastic decorations could be accepted through the TerraCycle mail-in recycling program. As a last resort, remove and recycle any electronic components or batteries and throw broken plastic decorations away.
Inflatable Yard Decorations
Unfortunately, most inflatable characters are made from nylon, which isn't recyclable in the traditional sense. Your municipal recycling collector might not be able to collect it, but fabrics can be recycled through textile recycling programs such as USAgain. If your inflatables pop or tear, separate the fabric from the electronic base. Fabric can be dropped off in textile recycling boxes, and the electronic portion can likely be recycled through the next collection event for electronics in your area. You can also seek out other electronic recycling facilities through a directory such as Earth911.
Other Options For Hard-To-Recycle Items
Before you throw anything away, consider whether it might be useful to someone else. Donating usable items to a thrift store is a good option for keeping items out of the waste stream. Another option is donating items to a creative reuse store. Tinsel, garlands, ornaments, knick knacks, holiday art supplies, ribbons, paper, greeting cards and many other materials may be welcomed at your local creative reuse store. Before donating anywhere, check ahead of time to make sure there is a current need. 
Recycle Your Vehicle With A Car Donation To Wheels For Wishes
Cars are also a tricky item to recycle, but not when you choose to recycle your vehicle through Wheels For Wishes! We offer free pick-up or towing from nearly anywhere in the U.S. The proceeds from auctioning or recycling your vehicle will benefit children's charities in your area. Use our chapter list to see which charity benefits kids in your area.
If you have a car to donate, just give us a call at 1-855-278-9474 or fill out a car donation form. We make the process as easy as possible, while you get to enjoy the many benefits of car donation.