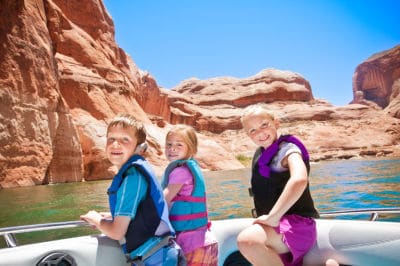 Ready For A New Boat? Donate Your Old Boat First
Summer is just starting to pick up, which means trips to the lake are picking up as well. Hopefully you've got a shiny new boat at your dock. If your boat isn't so new and this will be the last season you'll be using it, you're probably looking at options for trading up to a bigger or better boat. If that's your plan, there's a much easier solution to selling or trading in a boat that you could get little-to-no money.
After investing time and energy into listing a boat and showing it off to potential buyers, it's a huge disappointment when you are unable to sell it for the price you were hoping for. This can all change with boat donation.
Donate A Boat To Charity And Get A Tax Deduction
Instead of selling or trading in a boat, consider donating it to Wheels For Wishes benefiting Make-A-Wish. Wheels For Wishes is an IRS-approved 501(c)(3) non-profit organization and we can help turn your boat, old or new, into a wish for a local child in your area. Your boat will help grant a wish for a local child and also get you a great tax deduction, which could help you buy yourself a new boat in time for next spring.
When you think of donations, you tend to think that you're giving something away but not getting much in return. When you donate a boat and trailer to charity, you are also getting a great tax deduction at tax time. Your 2015 tax deduction could go toward the purchase of a new boat and could be parked at your house just in time to take out next season.
We Take Boats In Almost Any Condition
We are happy to accept all different types of vehicles, whether they are cars, trucks, SUVs, RVs, motorcycles, Jet Skis, or boats – as long as it has a trailer. Along with getting you the most out of your donation, our goal is to help your local Make-A-Wish chapter.
If you have questions regarding your boat donation, do not hesitate to give us a call and we will answer all of your questions! You can also check out our donation guide to find everything you need to know about donating a boat, car, truck, SUV, RV, or motorcycle.
Turn Your Old Boat Into New
Your used boat can easily be transformed into so much more when it's donated to Wheels For Wishes. Not only does it save you time, money, and stress, but it also gets you a great tax deduction and helps grant wishes for a local child in your area. Sure, your boat can help purchase a new boat for yourself, but most importantly, you will feel great knowing that your boat helped to grant wishes for a local child. We make the most out of each and every donation. Even if you think your boat isn't worth much, it can mean the world to a child.
If donated boats cannot be auctioned off to new owners, they are recycled and reused to build new boats, so you are also contributing to the green movement and helping to create jobs. Your old boat can become so much more!
When you are ready to donate your boat, please call us at 1-855-278-9474 or fill out our boat donation form. You will not regret donating your boat to a reputable and well-known charity that benefits your local Make-A-Wish chapter.