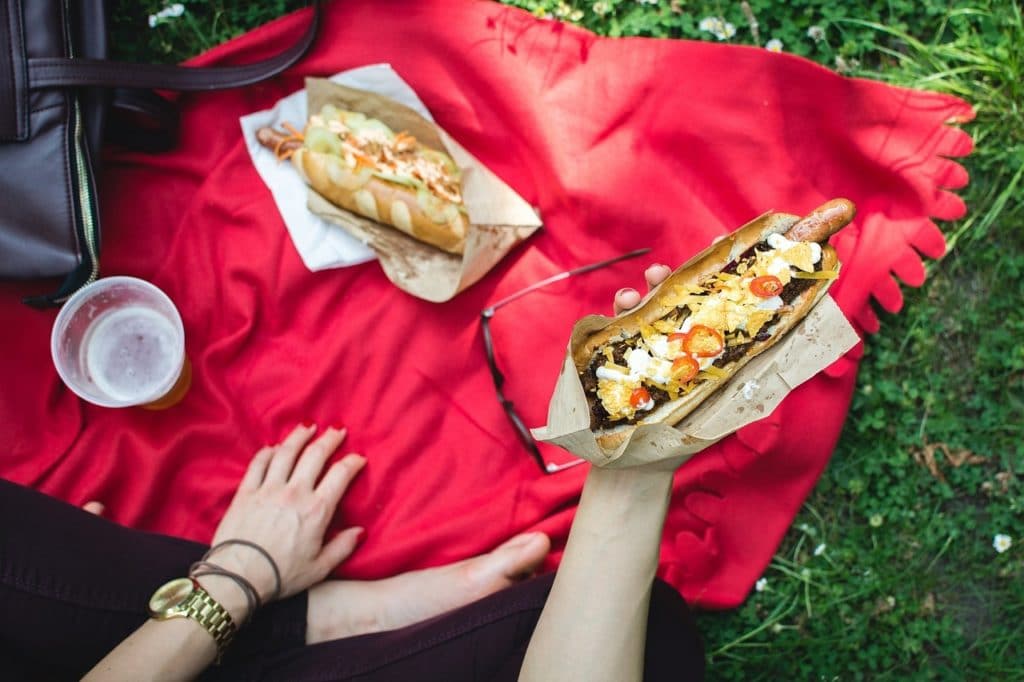 How To Celebrate National Picnic Month And Hot Dog Day
July is National Picnic Month and July 19 is National Hot Dog Day. The warm summer weather is the perfect environment for laying out a blanket, packing up some healthy food and enjoying the fresh outdoors at a local park. Without a set tradition in place for either of these holidays, it might be hard to know how to celebrate. To make it easier, here is a week-long schedule for healthy food and activities in the park:
Monday And Marmalade, 7/17
A healthy way to start the week is with a marmalade vinaigrette salad. Engage your palate by combining the sweet and sour tastes of this salad. Simply mix lettuce, chopped walnuts and red onions in a salad bowl. Then make the dressing by mixing marmalade, red pepper flakes, balsamic vinegar, rosemary and extra virgin olive oil. Toss the mixture, add a little salt and separate the salad into Tupperware containers for each of your family members.
After a long day at work, it may be tempting to just sit at home, but you have to be intentional about celebrating this month and enjoying the outdoors. Bring a casual yard game like: bean bag toss, bocce ball or ladder ball. Playing a casual game with your family is a good way to ease your way into this fun-filled week outdoors.
Taco Tuesday, 7/18
In the spirit of summer and fishing, whip up some delicious fish tacos. The best picnic food is finger food, and these tacos combine your whole meal in your hand. Make the base of the taco out of a cabbage slaw using: cabbage, green onions, peppers, sour cream and lime juice. Add your white, flaky fish on top and wrap it in a warm tortilla—add avocado slices if you prefer.
Enjoy this picnic on your boat or at your favorite park on a lake. As soon as you finish, go out in the water, or to the dock, and fish. Enjoy time with your family, get some sun and have some relaxing fun all in one activity!
Wednesday – National Hot Dog Day, 7/19
Take a day out of your healthy week to cheat. After all, it is a national holiday! Go to your favorite park with built-in grills and cook hot dogs any way you like them. Then, since it's your break day, find a way to relax in the great outdoors. Either set up your comfortable hammock between two trees, or lounge on the beach to catch up on some reading.
Thirsty Thursday, 7/20
For Thursday, switch it up and picnic during snack time. Rather than bringing your food and coolers to the local park, just bring a healthy drink to accompany you on a run or bike ride. If you are looking to implement super healthy smoothies into your life, there is a very simple formula for the perfect green smoothie. All you need is two cups of healthy greens, two cups of a liquid base and three cups of your favorite fruits—freeze them to replace the ice!
This drink will give you the boost you need to run around your favorite lake or go on a bike ride. Thursdays can either be a solo-picnic day, or you can find some workout buddies to help motivate you to experience the outdoors during National Picnic Month!
Fruit Friday, 7/21
Watermelons are perhaps the one food everyone collectively associates with picnics. Take a break from cooking and make your favorite easy sandwich for the main course. For dessert, make these tasty watermelon pops. Simply slice your watermelon into triangular pieces, poke Popsicle sticks through the rind and freeze for three hours.
A fitting activity to try on your beautiful Fruit Friday at the park would be greased watermelon polo. Go to your favorite family pool, weigh down two buckets to the bottom of the 4-foot section on opposite sides and try to push a greased-up watermelon into the opposing team's bucket! This silly, entertaining game is surprisingly challenging and causes a whole lot of laughs.
Here's A Good Way To Spend Even More Time Outdoors
If you enjoyed your week of picnicking, you don't have to stop your outdoor life when the week is over. Trade your extra or unwanted car for some summer-friendly bikes and donate your car to Wheels For Wishes. Donating your car will benefit local chapters of Make-A-Wish. Some children are stuck inside for the summer at the hospital, and your donation can help improve their lives significantly.
Wheels For Wishes also takes away the hassle, especially during your busy summer, of trying to sell your unwanted vehicle. Best of all, because Wheels For Wishes is a 501(c)(3) nonprofit organization, your donation is fully tax deductible! To donate your car, visit the chapter locater and fill out an online car donation form, or call us at 1-855-278-9474. Celebrate your time outdoors by helping a local child in need!