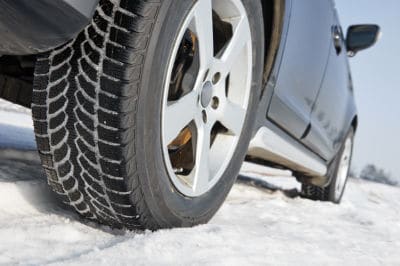 How To Buy Winter Tires For Your Car
Now that we're in the heart of winter, you've had a chance to get reacquainted with driving in the snow. The first couple of snowfalls, getting used to driving in the snow is an adjustment. People slipping and sliding down the road is a common sight as people figure out how much time and room they need to stop.
One way to help yourself and stay safe while driving in the winter is to equip your car with winter tires to replace your other tires until the snow goes away.
Do I Need Winter Tires?
Depending on where you live, you probably don't need winter tires. If you live in the Sunbelt, the West Coast and much of the East Coast, you don't need winter tires. Even if you live in a place like Seattle or Baltimore, you likely don't need them; the cost will outweigh the benefits of the tire in normal winter weather.
If you live in snowier parts of the United States, then you will probably find it useful to have winter tires. But, you're probably thinking: "I have traction control" or "I have anti-lock brakes." Those are both incredibly important safety tools to have in your car, and fortunately, the National Highway Traffic Safety Administration has mandated that cars have ABS in conjunction with Electronic Stability Control as of September 2011. But those two things aren't enough.
According to TireRack.com, ABS brakes keep you from locking up your tires while stopping suddenly and traction control will help keep you from overpowering your tires, but neither will help improve your traction.
What Winter Tires Do For You
One of the key differences between typical all-season tires and winter tires is the grip that you'll get. Goodyear says that winter tires have special tread rubber that stays flexible in low temperatures, which helps give you better vehicle control. The tread on winter tires also helps reduce snow build up, which of course helps you grip the road better.
Winter tires are also useful when the weather gets cold. Dunlop recommends switching to winter tires when the temperature consistently stays below 45 degrees because of the advanced level of traction the winter tires provide on cold roads – even if they aren't slick or snowy. Winter tires are not meant for warmer weather, however, so switch back to your all-season tires, or whichever tires that you have on before the winter-tire switch.
Will Your Car Survive Winter?
Winter is notoriously hard on vehicles, especially if you didn't take the appropriate steps to prepare your car for winter driving. If your car isn't going to make it through the winter, consider donating your vehicle to Wheels For Wishes. Wheels For Wishes benefits children's charities across the country, which means your unwanted vehicle can help a child near you. Check out our chapter list to see which children's charity benefits in your area. 
All you need to do is donate an unwanted car, truck, SUV, RV, motorcycle, or boat and it will help a local child. All of the hassle typically associated with getting rid of an unwanted vehicle is handled for you. No paying for and posting listings. No dealing with setting up times for potential buyers to view the vehicle. No haggling. No producing maintenance logs or waiting for a buyer to have their mechanic look it over. Plus you'll get a tax deduction for your vehicle, which you don't get when you try to sell it.
All you have to do is pick up the phone and call 1-855-278-9474 or fill out our easy online vehicle donation form. You don't even have to be home when the pick-up happens! It is just that simple and you will feel great about helping those who are striving to feel hope, strength, and joy once again.