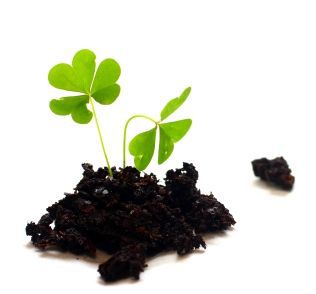 How To Be Even Greener On St. Patty's Day
You know the tradition of wearing green on St. Patrick's Day, drinking green beer (or other green beverages) and showing your Irish pride (even if you're not really Irish). However, there's other ways to truly be green on St. Patty's Day, and it goes much deeper than the color you're wearing and the beverage you're drinking!
This year, you could choose to really go green for St. Patty's Day so you can contribute to the green movement which will make the world a healthier and cleaner place to live. Plus, going green can also get you a great tax deduction during tax time next year.
Wear Green, Go Green
For St. Patty's Day this Sunday, pledge to wear green but also go green by being as environmentally-friendly as possible. Think of how you can throw a "Go Green" party that will show your guests the benefits of going green and how easy it really is. Make the initial party rule that nothing must be wasted and everything should be reused and recycled.
For starters, encourage guests to carpool to your house or bike if the weather conditions permit and they don't have too far to travel. Plus, who doesn't want to save on gas and gas money?
At your "Go Green" party, start with using reusable decorations, and nothing that will need to be thrown away. Encourage guests to bring their own reusable plates and silverware from home, and also bring a reusable to-go container for leftover food and snacks. Encourage guests to bring their own recyclable beverages or their own mugs and have a recycling container available to make it easy for guests to recycle, if they do need to dispose of anything. However, the only thing better than recycling is reuse, so reusable cups or mugs are even better!
Eat Your Vegetables
For food, serve only environmentally-friendly food and snacks such as fruits, vegetables, and plant-based items. Animal agriculture is responsible for a huge percentage of greenhouse-gas emissions, and the dairy industry requires a huge amount of land, water, and energy, making it a very inefficient use of natural resources. Choosing to eat plant-based is as environmentally friendly as you can get, and you can show your guests just how easy and delicious it is to eat consciously and healthy!
If you're not willing to give up eating meat completely, pledge to eat meatless once per week, such as on Mondays. This allows you to participate in the Meatless Monday movement. If you do choose to eat meat, buy locally raised and organic meat, eggs, and dairy.
Instead of making the traditional corned beef and cabbage at your party, stick with just cabbage and serve potato soup on the side. Bake a loaf of Irish Soda Bread and serve a batch of dairy-free cupcakes with green frosting for dessert. Even better, try out a no-bake recipe so you don't even have to use the oven for your cupcakes.
Vegetables and hummus or pita bread and hummus are also a great snack for parties and you can easily make your own hummus and create your own vegetable tray at home. You'll not only find these snacks to be incredibly cost-effective and delicious, but you will be doing your best to keep the world a cleaner, healthier place.
Create A Greener Home
Since you'll likely have a house full of people at your St. Patty's Day party, turn your thermostat down since your home will already be snug and warmer with a house full of guests. Open up all the blinds and use as much natural light as possible.
During the party, exchange recycling tips and green home ideas with your guests. After all, your "Go Green" party is meant to help each other go green and teach each other why it's so important. Remind guests to split up leftover food before they leave and take their leftovers home in their reusable containers. Exchange different ideas for ways you can serve the leftovers. Leftovers can be much more exciting when they are served in different ways so you're not eating the exact same thing twice! For example, leftover hummus makes a great sandwich spread or a great salad dressing.
When your guests leave and house cleaning must begin, create your own non-toxic cleaning products. Baking soda, vinegar, lemon, and soap go a long way!
Recycling Is Green
It's always wise to sell your used items or give them away before deciding to throw them out or letting them sit in your home and collect dust. When you allow someone else to reuse an item that you no longer need, you are helping to make the world a greener place.
Recycling allows you to contribute to the green movement, so when you have a vehicle to dispose of, why not donate it to Wheels For Wishes, benefiting Make-A-Wish? Not only will your vehicle be used to grant the wish of a local child, but your car will either be reused by a new owner, or it will be recycled and reused to build new vehicles. Donating a car allows you to go green, and you also get a great tax deduction at tax time. For more information on how to donate a vehicle to charity, please check out our 2013 Donate Car To Charity Guide.
Going green is important, and it's also important to share your green tips with other people. Your Green St. Patty's Day can be fun, eco-friendly, and beneficial to you and your friends and family! They will not only have a blast, but they'll also thank you for your tips that will make their lives and the world they live in much healthier.