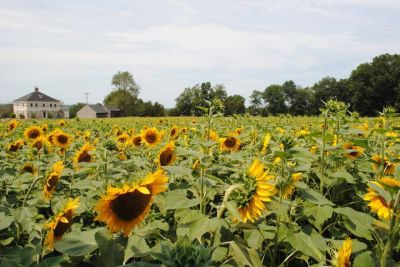 Help Wishes Bloom At Sunflowers For Wishes
If you're looking for a great way to help wishes come true for Connecticut children this summer, don't miss Sunflowers For Wishes this July. Now in its 12th year, Sunflowers For Wishes has raised nearly $1 million in donations. If you'd like a beautiful bouquet of sunflowers to brighten your home, be sure to stop by the Buttonwood Farm (473 Shetucket Turnpike) in Griswold July 18-26.
Brighten Your Home And A Child's Life
More than 450,000 sunflowers from over 15 acres are expected to be blooming by the time of the event. The best part of Sunflowers For Wishes is that 100% of the proceeds from the event benefit Make-A-Wish Connecticut. You'll feel great knowing that your purchases will help grant wishes for children with critical illnesses all over Connecticut.
In exchange for a $5 donation, you can take home a beautiful bouquet of sunflowers, and all of the proceeds go towards wishes. You can also support Make-A-Wish by picking up a sunflower-themed t-shirt or notecard pack at the farm. 
Spend The Day At The Farm
Whether you just stop by quick for a bouquet, or want to spend more time at the farm, you can! Buttonwood Farm is well known for its homemade sunflower ice cream cones in dozens of delicious flavors.
Hayrides are also available from 11 a.m. until dusk each day of the event. Hop on the trailer for a 3/4-mile ride through beautiful cow pastures and sunflower fields in bloom.
The Farm's History Of Bringing Joy
Buttonwood Farm began Sunflowers For Wishes after planting a one-acre plot of sunflowers back in 2003. People came from all over to enjoy the beautiful flowers, and the family realized they could do something great with their endeavor. The inaugural Sunflowers For Wishes kicked off in 2004 to help raise money for Make-A-Wish Connecticut by selling bunches of sunflowers to the farm's visitors. The bouquets are sure to bring joy to everyone who buys them, and to the Wish Kids they benefit! Learn more about Sunflowers For Wishes on the event website or by calling 860-376-4081.
Help Grant Wishes With A Car Donation
If you can't make it to Sunflowers For Wishes, or you're looking for more ways to help, consider a vehicle donation to Wheels For Wishes benefiting Make-A-Wish Connecticut. Each and every car donation helps bring more hope, strength and joy to wish kids throughout the state, and you can be a part of that! We accept cars, trucks, boats, RVs and motorcycles, which are auctioned or recycled to benefit Make-A-Wish Connecticut.
To donate your car, please call 1-855-278-9474 or complete our online car donation form. Either method only takes a moment of your time. After making your donation, one of our representatives will set up a time for your free vehicle pick-up or tow, and you'll receive a receipt in the mail for your tax deduction. Donating is a great way to get an unwanted vehicle off your hands, all while helping wishes come true for local children.