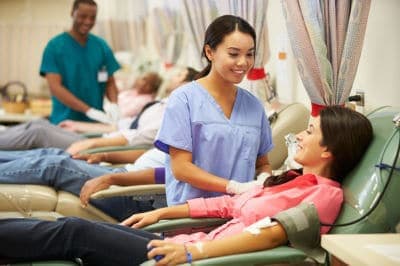 Have A Heart And Celebrate National Blood Donor Month
February is meant to be all about hearts with events such as Valentine's Day and National Heart Month, but January is just as important! The American Red Cross celebrates National Blood Donor Month this January and encourages you to have a heart and give blood, if possible. If you're unable to give blood, there are other ways to give back and make a difference. 
Donor Eligibility
Many people would like to give blood but are unable to for various reasons. Donors must be in good general health and must be feeling well on the day of the appointment. You must be at least 17 years old, but 16-year-olds may be able to give blood with parental consent in some states. Donors must weigh at least 110 lbs.
If you are looking to become a regular blood donor, you may do so as follows:
Blood: You may donate blood every 56 days.
Platelets: You may donate every 7 days and up to 24 times per year.
Plasma: Plasma may be donated every 28 days and up to 13 times per year.
Double Red Cells: You may donate every 112 days, and up to 3 times per year.
Rules vary for double red cell donors. Male donors must be at least 5 feet 1 inch tall and weigh at least 130 lbs. Female donors must weigh at least 150 lbs. and be at least 5 feet 5 inches. All donors must be healthy and feeling well on the day of the appointment. Learn more about eligibility here.
If you are eligible to give blood, simply find a blood drive in your region.
Can't Donate? Help In Other Ways
One pint of blood can save up to 3 lives, so your donation really does make a difference. Five million patients in the United States need blood every year, and a blood transfusion is needed every 2 seconds. Unfortunately, less than 38 percent of the population is eligible to give blood. If you are eligible to give blood, you are strongly encouraged to do so.
If you are unable to donate blood, you can still support blood donations by making a monetary donation to the American Red Cross.  You can also give back by hosting a blood drive or volunteering at a blood drive. More than 90 percent of the American Red Cross is composed of volunteers, so your help is certainly needed. Learn about various volunteer opportunities here and feel proud about giving back during Blood Donor Month.
Start The New Year Off Right
If you've decided to donate blood or support blood donations in other ways, then you've already started the New Year on the right foot!
If you're looking to give back in other ways, you may consider car donation. Wheels For Wishes picks up vehicles for free, then auctions or recycles them to benefit children's charities in your area. Check out our chapter list to see which children's charity benefits kids in your area. To make a car donation, simply call 1-855-278-9474 or make your donation online.