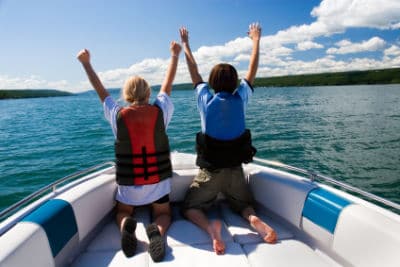 Fun Facts About Every Ocean On World Oceans Day
World Oceans Day is a day to celebrate the world's oceans, their products and marine life. The mission of this holiday is to take action to conserve the ocean and all it has to offer.
Celebrate World Oceans day by reading these interesting facts about each of the world's oceans.
Pacific Ocean
It's common knowledge that most of the Earth is wrapped in water rather than land. However, understanding just how large the largest ocean in the world is can be difficult. Covering about 28 percent of the Earth, the Pacific Ocean is 15 times larger than the United States. In fact, the Pacific Ocean covers more area than all the land in the world.
Atlantic Ocean
If someone asked you where the longest mountain range on Earth is, you might guess it's the Andes or maybe even the Himalayas. However, the longest mountain range on the planet is actually the Mid-Atlantic Ridge located mostly underwater in the Atlantic Ocean. This mountain range is about 10,000 miles long which is about 5,700 miles longer than the above-water Andes Mountains in South America.
Indian Ocean
To the naked eye, the Indian Ocean might just look like a massive body of water home to several trading ships. What you wouldn't see is the Kerguelen Plateau—an underwater continent three times the size of Japan. The Indian Ocean contains one of two main submerged continents in the world.  
Southern Ocean
The Southern Ocean is known as the home to Antarctica, the Emperor Penguin and 90 percent of the world's ice. It isn't, however, well-known as the driest place on Earth. The Sahara desert gets more rain than Antarctica, which is also considered a desert.
Arctic Ocean
Do you ever wish that a day would never end? At least one time every year, the Arctic Ocean has a full day of sunshine. Unfortunately, the same is true for a day of darkness too.
Donate Your Car or Boat
If you plan on getting a new boat to celebrate World Oceans Day, consider donating your used boat or car to Wheels For Wishes.
Our car (and boat) donation program accepts nearly all vehicles regardless of their age or condition. Donating your car is also a great way to get a tax deduction and help children in your community. Check out which children's charity your car donation helps in our Chapter Locator. We make car donation easy by taking care of all the paperwork and providing you with free towing. All you need to do is call us at 1-855-278-9474 or fill out an online car donation form. We take care of all the rest!