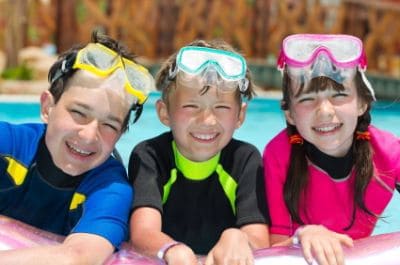 Ways To Celebrate The First Day Of Summer
It may have seemed like it would never arrive, but June 21 is officially here, and that means it's time to celebrate the first day of summer. Since the first day of summer happens to be on a Friday, it means there is plenty of time for weekend fun. We are here to help you out to make sure that you make the most out of the first day of summer!
Get Out Your Yard Games
If weather permits, get out your yard games and make a day out of croquet, bad mitten, bocce ball, horse shoes, or any other yard games you have. These traditional games are always enjoyable, especially in warm, sunny weather. Don't forget the sunscreen!
Clean Out Your Garage
This may not sound like the most fun activity to partake in, but if the sun is shining and the weather is nice, what's so bad about hanging out in the garage and getting it cleaned and organized? Turn on some fun music and get the hose going. This also gives you an excellent opportunity to give your vehicle a good wash. However, if you have a vehicle parked in the garage and it's only taking up extra space, consider donating it to Wheels For Wishes.
If you have a vehicle that doesn't run or maybe the cost of repairs are more than the car's worth, Wheels For Wishes can take the vehicle off your hands. The vehicle will be auctioned off or recycled and earned proceeds are donated to Make-A-Wish, so your vehicle will help to grant a wish for a local child in your community. It's a win-win! You can have a clean garage with extra space, and you get rid of a vehicle in the easiest way possible. Plus, you will receive a tax deduction next year at tax time. It can't get much better than that!
To donate that vehicle taking up space in your garage, call us at 1-855-278-9474 or fill out our easy online vehicle donation form.
Enjoy Entertainment In A Park
Depending on the city you live in, you can find many different options for arts in the park, music in the park, or movies in the park. Most events are free and have snacks available for purchase. Can you think of anything more perfect? You can enjoy the summer weather while kicking back and enjoying good music and entertainment.
Make Summer Treats
If it's already hot where you live, you may want something cold to cool you down, especially if you are planning on being outside all day. Popsicles are always fun for summer, and they are even more fun to make at home!
Simply blend a few different types of fruit in a food processer, such as watermelon, strawberries, oranges, etc. Add a little juice or water and then pour the blended fruit into Popsicle molds, or if you don't have any, use cups or even ice trays. Top with a Popsicle stick and then place in the freezer for at least six hours. If you use ice trays, your popsicles will be smaller than normal and you may not even need a Popsicle stick. These are great because you can pop them in your mouth for a little snack.
Write A Summer To-Do List
When you think of summer, you probably think of a bunch of different things you hope to accomplish during the few short months of summer. To ensure that you don't forget any, sit down and make a list of things that you or your kids will do over the summer. Check them off afterward, and aim to check off each item on the list.
Also, if you or your kids ever get the feeling of being bored, you can just look at your list and easily choose something to do! Summer is short, so don't miss out on it.
Clean Out Your House
After the long winter months, it's easy to forget about the little things that should be done around the house. If you missed spring cleaning because the weather wasn't so great, use this as an opportunity to get caught up. Open up the windows, give the house a good cleaning, and start organizing.
Decorate your home with summery items, such as curtains that let the sun shine in and fun souvenirs that you gathered from previous years of summer vacations.
Have A Bonfire
Nothing says summer better than a bonfire, so get the bonfire going and enjoy a calm summer evening under the stars.
What are your plans for the summer? Share your ideas on our Facebook and Twitter pages. We would love to hear your thoughts!