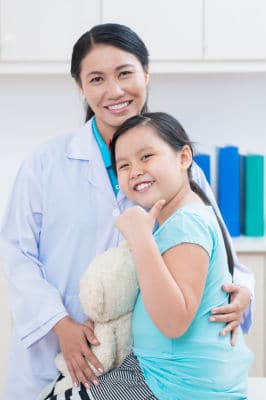 May 21 Is National EMSC Day
Emergency Medical Services for Children Day takes place on the Wednesday of each EMS Week. This year, May 21 is the day where medical personnel, communities, and parents work together to raise awareness about specialized pediatric emergency care. This day is a special recognition of the aspects of EMS that are unique to children. While many medical institutions, schools and health organizations will host their own events for EMSC Day, there are a few things you and your kids can do at home to address the topic of EMS for kids.
Attend A Teddy Bear Clinic
One thing you may want to look into in your community is whether any organization is hosting a Teddy Bear Clinic. Hospitals or other medical organizations may host one of these clinics, which are intended to help kids feel less frightened of medical emergencies. A medical emergency can be terrifying for a child, so these teddy bear clinics are designed to help children become more familiar and comfortable with EMT personnel and doctors, as well as some medical equipment, in a safe, fun environment. During one of these clinics, children bring in their teddy bears and learn about emergency medical services as EMTs or doctors "help" their teddy bears or bandage their imaginary injuries. You can check around your community to see if anyone in the area is hosting a teddy bear clinic. A clinic like this can provide a great learning experience for children.
Things You Can Do At Home
If you can't find a teddy bear clinic, there are still activities you can do at home to raise awareness about children's safety. You could even host your own teddy bear clinic. Although this won't give kids the same chance to meet EMS personnel, it can help kids learn about some of the medical supplies – like bandages or gauze – that you may have in the home.
Spend some time creating a list of emergency numbers to call. When you sit with your kids and compile this list together, you can be sure that they know what numbers can be found on the list and where the list is at. A popular place for emergency numbers is on the fridge door where everyone in the house can see it. To make this activity more fun, let your kids decorate the list with drawings or stickers. Just make sure that the numbers are all easy to read and not covered up. This is a great opportunity to ask your kids if they know the right number to call in any given emergency situation.
If you have older children, consider taking them to a CPR class or a first aid class. Becoming CPR certified and more knowledgeable about first aid is a good way to be prepared for emergencies that may occur in the home.
Stock up on supplies for a first aid kit. While you can buy premade first aid kits, kids may enjoy helping you put together one from scratch. Reference this list from the Mayo Clinic for tips on what to include in your kit. While you're assembling your kit, take the opportunity to talk to kids about the uses for each item. If you already have a first aid kit in the house, you can make one for the car too. It's always good to be prepared wherever you go.
EMSC Day Is The Perfect Day To Think Of Kids In Your Community
There are many ways to make a difference today in your children's lives. The more familiar they are with how to safely handle any emergency situation, the better! You can also make a difference in the life a child in your community this week. Do you have a used or unwanted vehicle? Donating it to Wheels For Wishes, benefiting your local chapter of Make-A-Wish, will help grant the wish of a child facing a critical illness. The proceeds from your donation will help that wish come true! Donating only takes a moment of your time when you call 1-855-278-9474 or fill out an online vehicle donation form. On a day that's all about children, consider making a vehicle donation to grant wishes that bring more hope, strength, and joy into their lives.