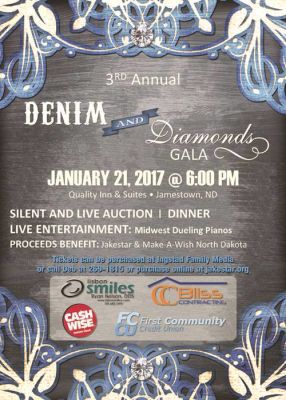 Denim And Diamonds Gala 2017
A little sparkle never hurt anyone. Don't miss the 3rd Annual Denim and Diamonds Gala benefiting Make-A-Wish North Dakota and JakeStar. This eventful evening will take place Jan. 21, 2017 at the Quality Inn and Suites in James Town, ND
About
The evening will start at 6 p.m. and end at 10 p.m.
Silent and live auctions with many fantastic prizes.
Featuring live entertainment from the Midwest Dueling Pianos.
Fabulous sit down dinner.
Individual Tickets are $40; however there are only 180 tickets.
Table for 8 is $280 which accounts to 7 tickets. You get your 8th one free!
Key corporation sponsorship grants you: table of 8, publications and radio advertisements; this sponsorship is $750.
Exclusive sponsorship grants you: VIP table and tickets, two bottles of wine, and your company name will be mentioned in all radio, print, email and social media blasts as the exclusive sponsor; this opportunity is $1,500.
You can find links to the tickets on the Make-A-Wish North Dakota website.
Tickets
About Make-A-Wish South Dakota
Make-A-Wish South Dakota was started in 1985 by granting its first wish to a little boy who wished for a VCR and VHS movies for his hospital room.  With more and more donations they were able to grant their 600th wish in 2011. They received an award for their Outstanding Fundraising Performance and another for Outstanding Chapter Achievement. They hope to keep their goals high and grant even more wishes in years to come.
The Sparkle Of Giving
If you are disappointed that you are unable to make the event but still want to help Make-A-Wish North Dakota, we have a way you can help. If you have a vehicle you no longer need or use such as a car, truck, boat, trailer or RV, you can donate it to Wheels For Wishes and save yourself the hassle of trying to sell your vehicle. We will pick up the vehicle from anywhere in North Dakota and tow it away for free. Our donation program is fast and stress-free! All you need to do is call us at 1-855-278-9474 or fill out our online donation form. Once this is done, you will get a call from us within 24 hours so we can figure out the best time to pick up the vehicle.
As you are sitting there wondering how you can create more space fast, this is a fantastic option, all while you help make a dream come true to a child in your area.