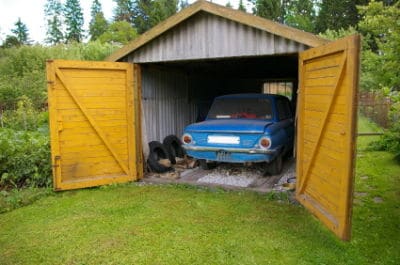 Create Extra Space With A Car Donation This Summer
It's likely that during the summer months, you spend a lot more time in your garage or backyard shed than you do any other time of the year. Whether you're doing yard work and have all your tools stored in the garage, or maybe you're taking on more projects that you've been completing in the garage, you probably enjoy having a good amount of space to work with.
If that's not the case, and maybe it's a vehicle that's taking up too much space in your garage, outdoor shed, or even your driveway, we can help. If you have an unwanted vehicle taking up space that you would rather use as work space, consider donating it to Wheels For Wishes, benefiting Make-A-Wish. At no cost, we will pick up or tow away your car, truck, SUV, RV, motorcycle, or boat, and earned proceeds from the sale of the vehicle will benefit a local child in your area. It's so easy to do, and you get all the extra space you need, along with a great tax deduction during next year's tax time. However, we're here to help if you need more convincing!
Car Donation Is Green
When you think of car donation, you might forget that donation is another form of reuse and recycling. When you donate a vehicle to Wheels For Wishes, vehicles are either auctioned off for a new owner to use, or vehicles are recycled and reused to build new vehicles. Earned proceeds from the sale of vehicles are used to help Make-A-Wish grant wishes for local kids in your community. When you donate a vehicle to Wheels For Wishes, the possibilities are endless. Plus, you can feel great about doing something green and eco-friendly.
We all know how important recycling is, so just imagine how important vehicle recycling is. According to the Alliance of Automobile Manufacturers, the production of car recycling also provides 46,000 jobs and is the 16th largest industry in the United States. Plus, recycling a vehicle could provide enough steel to produce almost 13 million new automobiles!
Aside from creating jobs, your vehicle donation saves oil. The vehicle-recycling industry contributes to saving approximately 85 million barrels of oil each year! When vehicles are recycled, the oil is retracted and reused. So, by donating a vehicle to Wheels For Wishes, you are allowing all of these wonderful things to happen. On top of all that, you are also helping Make-A-Wish grant a wish for a local child in your community.
Car Donation Is Fast And Easy
If you think car donation is too much of a hassle, think again. Instead of selling or trading in an unwanted vehicle, you can leave all the work up to Wheels For Wishes. Who wants to waste their time trying to sell a car during the summer months, especially if your unwanted car doesn't have working air conditioning and you're driving around in 80- or 90-degree heat. Maybe the car doesn't run well in the heat and you'll need to spend your vacation fund on car repairs. Or perhaps the car doesn't even run at all and you have to pay to get it towed away.
When you call Wheels For Wishes, you don't have to worry about any of this. We'll get rid of your car so you can get on with your life and enjoy the summer. At no charge, we pick up or tow away vehicles whether they are running or not. You won't have to worry about a thing! It really is as simple as giving us a call at 1-855-278-9474 or filling out our easy online vehicle donation form. We'll take care of everything else.
Use Your Extra Space
Once you get rid of that vehicle taking up extra space in your garage, you can finally fill your garage with whatever you wish, whether you choose to replace the unwanted car with a new one, use the space as your workstation, or whatever else you may choose! You can relax and feel great about your generous and wise decision to make a vehicle donation to Wheels For Wishes, benefiting Make-A-Wish.
Give us a call today and help make a difference in the life of a child, while also helping to make the world a little greener at the same time.