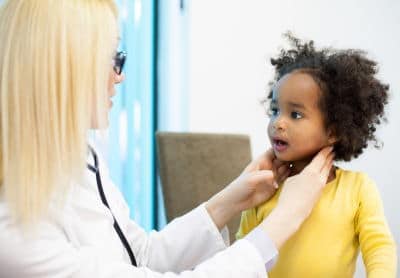 Raise Awareness For Childhood Cancer This September
Cancer in children is rare – which is obviously a positive – yet it is the leading cause of death by disease past infancy among children in the United States. St. Jude Children's Research Hospital estimates that 16,000 children and adolescents ages 0 to 19 years will be diagnosed with cancer and 1,960 will die of the disease in the United States.
Every September, we observe Childhood Cancer Awareness month to help bring attention to the impact this disease has on children and adolescents. According to St. Baldrick's, almost all kids diagnosed with cancer in the 1950s died. Thanks to advances in research, about 90 percent of kids with the most common type of cancer – acute lymphoblastic leukemia – will live.
Types Of Cancer In Children
According to the National Cancer Institute, environmental causes of childhood cancer have been difficult to identify, partly because cancer in children is rare and because it is difficult to determine what children could have been exposed to early in their development.
Childhood cancer is different from cancer in adults. Typically, the cancers that occur in children are:
Leukemia
Brain and spinal cord tumors
Neuroblastoma
Wilms Tumor
Non-Hodgkin Lymphoma
Hodgkin disease
Rhabdomyocarcoma
Retinoblastoma
Osteosarcoma
Ewing family of tumors
Symptoms To Look For
It can be difficult to recognize cancers in children. The American Cancer Society says that if any of the following symptoms or signs are present, you should seek medical advice as soon as possible.
An unusual lump or swelling
Sudden unexplained weight loss
Unexplained paleness and loss of energy
Easy bruising
Limping
An ongoing pain in one area of the body
Unexplained fever or illness that doesn't go away
Frequent headaches, often with vomiting
Sudden eye or vision changes
Support Childhood Cancer Awareness Month by wearing a gold ribbon and learn about which color is associated with each cancer awareness month ribbon. By spreading awareness during Childhood Cancer Awareness Month, other people can also be made aware of the signs and symptoms associated with childhood cancer. Have you or your family been affected by childhood cancer? Please share your story with us on our Facebook, Twitter or Google+ pages.
Help Kids With Life-Threatening Medical Conditions Find Hope
Make-A-Wish is an amazing organization that helps to grant the wishes of kids between the ages of 2 ½ and 18 who are battling critical illnesses. When you donate a car, truck, boat, or motorcycle to Wheels For Wishes, your vehicle donation will be picked up at no charge to you, nearly anywhere in the United States. Your vehicle will be recycled or auctioned off and the earned proceeds will be donated to your local Make-A-Wish.
When you donate a car, you can help a child with cancer or another medical condition in receiving their greatest wish. Simply call 1-855-278-9474 or fill out an online car donation form.