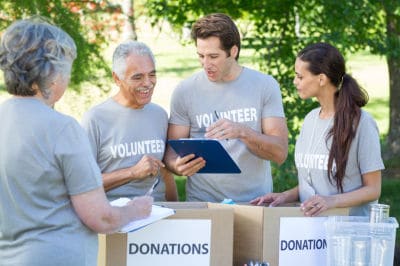 How Will You Celebrate International Day Of Charity?
Charity comes in different shapes and sizes. Whether volunteering your time or donating money or goods, charity can make a world of difference for people. That's why the United Nations designated Sept. 5 as the International Day of Charity.
"Charity plays a significant role in the work of the United Nations and its agencies. On this International Day, I call on people everywhere to act on the charitable impulse that resides in every human being -- to start giving and to keep on giving," UN Secretary-General Ban Ki-moon said in last year's International Day of Charity message.
Sept. 5 was chosen by the UN in honor of Mother Teresa of Calcutta who passed away on Sept. 5, 1997. Mother Teresa was renowned for her work as a nun and missionary who devoted herself to helping the poor, sick, orphaned and dying for more than 45 years. She began her works in India and then expanded the order she founded, the Missionaries of Charity of Calcutta, to other countries.
On International Day of Charity, the UN invites its members, all international and regional organizations, non-governmental organizations and individuals, to commemorate the day in an appropriate manner, by encouraging charity, through education and public awareness-raising activities.
How Can I Get Involved?
Many people have non-profits that they are involved with or regularly donate money to. But there are also lots of acts of volunteering that you can take part in to celebrate International Day of Charity. If volunteering is what fits more into your budget, consider these options:
The faith community in your area is always looking for people to get involved. Synagogues, churches and other local social service providers almost always have a need for volunteers to help plan or run programs or – if you have more time to give – serve on boards or committees.
Enjoy animals? Most cities have animal shelters that need volunteers to help with walking dogs or feeding animals, to name a few of the chores.
Know a senior who needs help? Seniors may need help with things like minor work around the house, grocery shopping, or simply having someone to have a cup of coffee with to keep them company.
Donate Your Car On International Day Of Charity
Charity car donation is easy and beneficial, and when you donate your car to Wheels For Wishes, it will help benefit your local Make-A-Wish chapter. Not only will you help to grant the wish of a child in your community, but you also get a great tax deduction for your kind efforts!
We try to make the donation process as hassle-free as possible so your vehicle can be on its way to helping wishes come true. All you need to do to donate a car is follow these three steps:
Give us a call at 1-855-278-9474 or take a moment to fill out our online car donation form. Our donation representatives will take care of all the paperwork for you and will be available to help with any questions you may have.
Next, we'll call to schedule your free vehicle pick-up or tow. All you need to do is clean out your personal items from the vehicle. Don't worry about repairing or washing the vehicle first.
Finally, wait for your tax-deductible receipt to arrive in the mail. Save this receipt to use for your tax deduction during tax time.
No matter what you are giving to an organization, it should go to a cause you can trust. If you have any suggestions for ways to celebrate International Day of Charity, Please share them with us in the comments or on our Facebook, Twitter or Google+ pages!