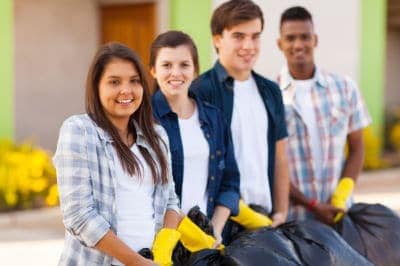 Make A Difference On Carl Garner Federal Lands Cleanup Day
Have you ever done a cleanup event or activity on Carl Garner Federal Lands Cleanup Day? This year might be the perfect time to do so in memory of Garner, who passed away two months ago on July 6, 2014. Garner is remembered for his 58 years of continuous service for the Corps of Engineers in Arkansas, for his coastal cleanup of Greers Ferry Lake, and for receiving the Department of the Army Decoration for Exceptional Civilian Service award—the highest award the service can bestow on a civilian. Celebrate the impact Carl Garner made in his lifetime by participating in a cleanup event in your city, a state park, or other federal land on Sept. 6. 
Where Can You Clean Up?
The United States has 58 national parks, well over 6,000 state parks, and numerous other national lands such as national trails, forests and grasslands. America's state parks encompass nearly 42,000 miles of trails, and our National Trails System has nearly 60,000 miles of trails. The United States is filled with beautiful natural areas, all of which need to be maintained in order for them to stay natural.
With national parks in 27 states, and state parks in every state, it is easy to find a location near you that may be hosting a cleanup event on Carl Garner Federal Lands Cleanup Day. Yellowstone, Yosemite, and Redwood national parks are some of the more well-known parks in the system, but there are many others that are not visited as much. Check the National Park Service's park locator to see if you can find a park or national scenic area near you!
Help Care For Our Environment Every Day
All natural areas deserve attention and care year-round, but especially on days dedicated to conservation efforts. You don't necessarily need to travel a huge distance to find a park or natural area that you can help clean up. Even neighborhood parks and streets can use some cleaning from time to time. Plus, the whole community benefits when you pitch in to make the parks and streets more beautiful!
At Wheels For Wishes, we care about the environment and local communities. If you'd like to take your efforts one step further on Carl Garner Federal Lands Cleanup Day, consider making a vehicle donation to Wheels For Wishes. The proceeds from your donation will go to your local chapter of Make-A-Wish, helping them to grant wishes for children in your community who are fighting critical illnesses. Plus, your vehicle donation is an earth-friendly option for disposal.
We make use of every accepted vehicle by auctioning it to a new owner or recycling it. When used vehicles are bought, that means fewer resources are used to make new cars. When your car is recycled it keeps the car from sitting out in the elements, potentially releasing harmful chemicals. Recycling also allows the old parts and materials in your vehicle to be made new again.
Donate your car today by calling 1-855-278-9474 or filling out an online donation form.