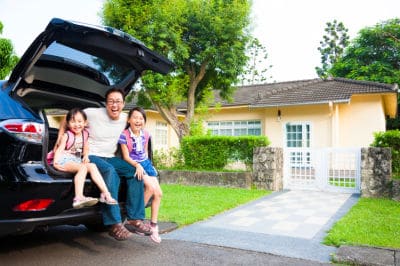 Donate A Car Using The Wheels For Wishes Car Donation Program
Are you looking to donate a car this summer? Then donate using our car donation program, Wheels For Wishes. Your donated vehicle benefits Make-A-Wish and helps to grant the wishes of children in your community who are battling critical illnesses. With the help of your car donation, Make-A-Wish is able to grant the wish of a new child every 38 minutes! 
How To Donate A Car
The Wheels For Wishes car donation program makes it easy to get rid of an unwanted car, truck, boat, motorcycle, camper, or other vehicle. All you need to do is have a car to donate, whether it runs or not! Grab any valuables from your car, and simply call 1-855-278-9474 or fill out our easy online vehicle donation form. Both methods only take a few moments of your time but could change the life of a child forever.
After you've made the generous decision to donate your car, your vehicle will be picked up or towed away at absolutely no cost to you. Your vehicle can be picked up nearly anywhere in the United States!  It doesn't matter if your car is low on gas, needs repairs, or is stalled on the side of the road. We'll take most makes and models of vehicles in nearly any condition. New or old, your unwanted vehicle can help to make a wish come true for a child in your community.
The Benefit Of Your Car Donation
Car donation helps to provide funding for the wishes of children with critical illnesses. As of August 2012, the average cost of a wish was $8,141. Nearly 75 percent of wishes involve travel, but some children wish to enjoy an activity in their very own city or state. Wishes fall under the categories of: I wish to be, I wish to give, I wish to go, I wish to have, and I wish to meet. Your charitable vehicle donation helps to make these wishes possible.
Not only does car donation help to grant wishes for children, but it also benefits you! When you donate a car using the Wheels For Wishes car donation program, you receive:
Free pick-up or towing of your vehicle, whether the vehicle runs or not

The highest possible tax deduction at tax time

An easy and hassle-free way of disposing a vehicle

An opportunity to contribute to the green movement. When donated, your vehicle will be auctioned off or recycled and reused!
If you have a vehicle taking up space in your driveway or garage, put it to good use and donate it today. Why waste money on car repairs, car insurance, upkeep, or filling the gas tank when the vehicle hardly gets used? Turn your vehicle into something bigger and better by donating it to Wheels For Wishes, benefiting Make-A-Wish.