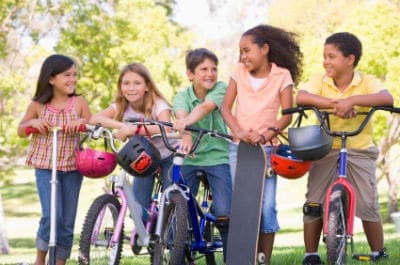 National Cancer Prevention Month
February is National Cancer Prevention Month. This is a great time to become more informed about cancer prevention and even make lifestyle changes that can reduce your risk for cancer.
Unfortunately, many cases of cancer are not preventable. However, it is estimated that approximately one-third of all cancer cases in the United States could be prevented by staying lean, eating healthy and exercising. In fact, if Americans took these actions to prevent cancer, 374,000 cases of cancer would never happen!
Making lifestyle changes is always hard. But statistics like that show just how important it is to keep up a healthy lifestyle or adopt these healthy habits to decrease your chance of developing a potentially preventable form of cancer. Kids and adults alike can all keep healthy habits to reduce their future cancer risk.
Tips For Reducing Cancer Risk
There are many ways that you can protect yourself from preventable cancers. Not only will these healthy habits lower your risk, they will also keep you feeling your best on a daily basis. While some of these habits mainly affect adults, it is never too early to teach your kids healthy habits or start leading by example.
Avoid tobacco use. Cigarette smoking is a major contributor to lung cancer, which is the leading cause of cancer death. It can also be a major risk factor for cancer of the mouth, throat and esophagus, as well as the kidney, bladder, pancreas, cervix and stomach. Secondhand smoke can also increase your risk for developing cancer.
Protect your skin from the sun. Because skin cancer is the most common form of cancer, it is very important to protect yourself from sun exposure. Sun screen is a great way to reduce your risk of sun damage – but be careful to choose sunscreen products that do not contain harmful chemicals. You can always check the Environmental Working Group's Cosmetics Database for information on a wide range of product ingredients.
Limit alcohol consumption. Many studies have shown the connections between heavy drinking and liver cancer, among other cancers such as breast cancer and colon cancer. It is recommended that men limit themselves to two drinks per day and women limit themselves to one drink.
Stay lean and keep a healthy weight. Being overweight or obese can greatly increase a person's risk for developing uterine, breast, prostate or colorectal cancer. To find your ideal body weight, you can find your body mass index (BMI) here.
Exercise for at least 30 minutes a day. Not only does exercise improve your cardiovascular health, it also helps you stay lean. Brisk walking is a great way to get in the habit of exercising every day. Even if you don't have time to take a long walk every day, you can still get your exercise in throughout the day in small sections. Consider taking the stairs instead of the elevator or taking a few ten minute walks throughout the day.
Eat more fruits and vegetables. Fruits and vegetables are filled with vitamins, minerals and phytochemicals, which are compounds that can protect cells from damage that can lead to cancer. Fruits and vegetables can be great for maintaining a healthy weight as well because they are low in calories but are full of fiber and water, which fill you up.
This infographic is another great resource for cancer prevention tips.
Even Small Changes Make A Difference
Many cases of cancer are preventable with lifestyle changes. Quitting habits like smoking or drinking, or starting new habits like exercising every day is daunting, but it can be helpful to share your goals with friends who can hold you accountable or to take on goals together with your family. Once you know what changes you want to make, you can take on your healthier lifestyle one step at a time.
Support Make-A-Wish During National Cancer Prevention Month
Cancer and many other critical illnesses affect children all over the world. If you would like to make life a little brighter for a child in your community, consider donating a vehicle to Wheels For Wishes benefiting your local Make-A-Wish. Make-A-Wish works hard to grant the wishes of children who are facing critical illnesses. A granted wish brings a child more hope, strength and joy during a time when they need it most.
The proceeds from your vehicle donation will go to your local Make-A-Wish, helping them grant wishes for more children. To donate a car, simply give us a call at 1-855-278-9474 or take a moment to fill out our online car donation form. Your vehicle donation will make a huge difference in the life a child!