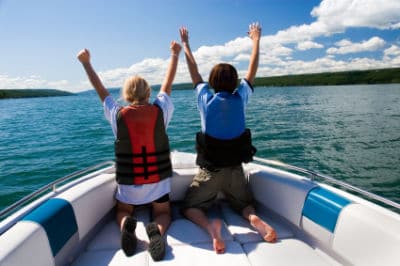 Ready For A New Boat Next Spring? Donate Your Old Boat Now
Summer is winding down, which means the opportunities to take the boat out on the lake is coming to an end. Depending on how long you've had that boat, maybe you'll be looking to get rid of it ahead of buying a newer model next spring. If that's your plan, there's a much easier solution to selling or trading in a boat that you could get little to no money for.
After investing time and energy into listing a boat and showing it off to potential buyers, it's a huge disappointment when you are unable to sell it for the price you were hoping for, especially when you have your sights set on a sparkling new boat that you can't wait to get into the water. This can all change with boat donation.
Instead of selling or trading in a boat, consider donating it to Wheels For Wishes benefiting Make-A-Wish. We are an IRS-approved 501(c)(3) non-profit organization and we can help turn your boat, old or new, into a wish for a local child in your area. Your boat will help grant a wish for a local child and also get you a great tax deduction, which could help you buy yourself a new boat in time for next spring.
Donate A Boat To Charity And Get A Tax Deduction
When you think of donations, you tend to think that you're giving something away but not getting much in return. When you donate a boat and trailer to charity, you are also getting a great tax deduction at tax time. Your 2013 tax deduction could go toward the purchase of a new boat and could be parked at your house just in time to take out next season. Plus you won't have the expense of storing it for the offseason.
We make it easy to donate a boat, and all you need to do is give us a call at 1-855-278-9474 or fill out our easy boat donation form. Both ways are incredibly easy and only take a few moments of your time. After you've told us you're looking to donate your boat, we will take care of the rest. We will contact you within 24 hours of the next business day to schedule your free boat pick-up, and then we'll send out your tax deductible receipt for you to save and deduct from your taxes at tax time. Imagine using your old boat for one last summer and come fall, donating it to Wheels For Wishes and knowing that your boat is not only helping to grant the wish for a local child in your area, but also helping you purchase a new boat.
We Take Boats In Almost Any Condition
We are happy to accept all different types of vehicles, whether they are cars, trucks, SUVs, RVs, motorcycles, jet skis, or boats, but we do ask that your boat has a trailer. Along with getting you the most out of your donation, our goal is to help Make-A-Wish, but we are unable to reach our goal of helping Make-A-Wish when the donation is not cost-effective. In order to tow away your boat, we will need to make sure that the boat does have a trailer.
If you have questions regarding your boat donation, do not hesitate to give us a call and we will answer all of your questions!  You can also check out our donation guide to find everything you need to know about donating a boat, car, truck, SUV, RV, or motorcycle.
Turn Your Old Boat Into New
Your used boat can easily be transformed into so much more when it's donated to Wheels For Wishes. Not only does it save you time, money, and stress, but it also gets you a great tax deduction and helps grant wishes for a local child in your area. Sure, your boat can help purchase a new boat for yourself, but most importantly, you will feel great knowing that your boat helped to grant wishes for a local child. We make the most out of each and every donation. Even if you think your boat isn't worth much, it can mean the world to a child.
If donated boats cannot be auctioned off to new owners, they are recycled and reused to build new boats, so you are also contributing to the green movement and helping to create jobs. Your old boat can become so much more!
When you are ready to donate your boat, please call us at 1-855-278-9474 or fill out our boat donation form. You will not regret donating your boat to a reputable and well-known charity that benefits your local Make-A-Wish chapter.