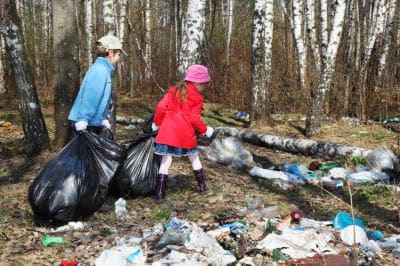 How A Car Donation Program Can Be Part Of Your Spring Cleaning Event
Spring is in full swing, and the next few weeks are a perfect time to get outside and enjoy the season. It's also the perfect time to care for and beautify the land we love so much by cleaning up rivers, parks and other natural areas. Since the beginning of spring, various organizations and cities have been hosting clean up events, recycling programs and clean sweeps. And even though Earth Day was back in April, you can still help the planet every day by keeping it clean. Below we've listed a few upcoming June events around the nation that promote a green lifestyle. If you don't see one in your city, chances are someone in your area is still hosting a local clean up or recycling event. 
Joplin, Mo. National Trails Day Nature Hike And Trail Clean-up. On June 7, celebrate National Trails Day at the Wildcat Glades Conservation and Audubon Center by taking a nature hike and picking up trash along the way. This is a great way to experience nature while also beautifying the trail. Head to their website and register for the event today! The event goes from 9:30-11:30 a.m. More event information can be found here.
St. Louis Park, Minn., Spring Clean-up Day. For residents of St. Louis Park, June 7 from 8 a.m. to 1 p.m. is the day to recycle unwanted items that are perhaps difficult to get rid of otherwise (such as bicycles, electronics, fluorescent light bulbs and scrap metal). For a fee, Waste Management will also accept furniture, tires, appliances, and mattresses. Clean-up days such as this are good for the environment because they keep trash and recyclables from being disposed of improperly. Keep in mind that this event is only for residents of St. Louis Park and personal identification is required. The event takes place at the St. Louis Park Municipal Service Center, 7305 Oxford St. Full details can be found on the city's website.
Seaside, Ore., Treasure The Beach Clean-up. Join Seaside's monthly clean-up program on June 7 from 9-11:30 a.m. Monthly clean-ups take place the first Saturday of each month, so you can attend this event next month too! The clean-up crew meets at the Seashore Inn (60 N. Prom) at 9 a.m. Full details on the event can be found here.
Leavenworth, Kan. & Weston, Mo. Missouri River Clean-up 2014. Starting at the Leavenworth Riverfront Park, this clean-up event on June 7 will bring together the communities of Leavenworth, Kan. and Weston, Mo. From 9 a.m. to noon, volunteers will board boats and arrive at specified locations along the river to pick up trash that has washed up on the banks. Following the clean-up, volunteers will meet back in the park for lunch and to sort and dispose of the trash. Check out the Missouri River Relief website for the full details.
Manchester, N.H., McQuesten Brook Clean-up. Friday June 13 from 8:30 am to noon is the McQuesten Brook clean-up. This event is organized by the Manchester Urban Ponds Restoration Program, which has organized 91 clean-up events since 2000. For this event, volunteers are asked to meet at the information kiosk in Wolfe Park ten minutes before the event starts. More information on this event can be found here.
Hartford, Conn., Bushnell Park Clean-up. On the third Thursday of each month, you can join the Greater Hartford Green Team in cleaning up a local park. The next event is June 21 from 9 a.m. to 1 p.m. at the Bushnell Park. Email Charmaine at charmainec@knoxparks.org to say you're coming or to get more information. More information can be found here too.
Henrico, Va., Cheswick Park Stream Clean-up. Sarurday, June 28, is the annual Adopt-a-Stream event in Cheswick Park. From 10 a.m. to 1 p.m., Virginia Water Environment Association members, as well as non-members and families, will remove trash from the stream. Clean-up supplies will be provided. Following the clean-up, lunch will be provided too. RSVP for the event before June 24 by emailing Ben Custalow at bcustalow@greeley-hansen.com or calling 804-204-2426. More information on the event can be found here.
Car Donation Is A Great Way To Recycle
We at Wheels For Wishes always promote being green and recycling whenever you can. There are certainly more events this June, in addition to the ones above, that can help make our planet a cleaner place. However, if you can't find a spring clean-up event in your area and you still want to make a difference for the earth, consider donating your used or unwanted car, truck, SUV, RV, or boat to Wheels For Wishes, benefiting your local chapter of Make-A-Wish.
Wheels For Wishes can accept vehicles even if they're not running. You may be surprised at how much of your car can be recycled! If you're interested, check out our blog on 5 Surprising Car Parts That Can Be Recycled And Reused.
Running or not, the proceeds from your vehicle donation will benefit Make-A-Wish and help grant a wish for a child in your community who is facing a critical illness. Donating is easy and only takes a moment of your time. Simply fill out an online car donation form or call 1-855-278-9474 today. Not only will your generous donation help the planet, it will also help bring hope, strength, and joy into the life of a child whose wish is granted because of it.