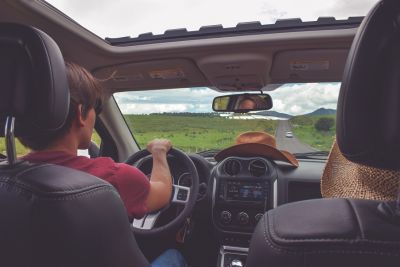 7 Of The Best Road Trip Games
If you have ever been on a long road trip you know they can be long and sometimes very boring.  These road trip games can keep you, your friends and even kids busy.
Making Memories Happen
If you are preparing for a long road trip and want a solution for when everyone starts to get bored and cranky, here are some games to get everyone lively.
Road Trip Bingo:  This game combines bingo with a scavenger hunt. You can download free scavenger hunt bingo cards online.  When a player sees an item on their card as you are driving, they cross it out. The person with a bingo first wins.
Color Car Game: The game begins when all the players pick a unique colored car such as yellow or pink.  Every time a player spots their colored car they get a point. You can make this game interesting by letting the players yell out when they see an opponents color car and steal a point.
License Plate Game: When everyone is starting to get bored this game is sure to keep everyone alert.  There are many different ways to play this game.The most common is, whoever spots out all 50 states license plates wins. This can get tricky when you are driving through multiple states. So whatever state you are in, everyone automatically gets that state crossed off their list.
Padiddle: Driving at night can get boring but with a game like padiddle this is sure to keep everyone awake. If you see a car with their headlight out you hit the ceiling of the car and yell "paddidle." Whoever does that first gets a point. You can make this game as long or as short as you would like.
Radio Roulette: This is great for a cross-country road trip. Finding radio stations that you like can get difficult when you are driving a long distance. This game allows you to listen to all different kinds of music. First, you press the scan button and when the radio hits a station, you have to stay on that station for ten minutes, even if you don't like it. This will allow you to experience all different kinds of music and get some laughs as well.
Cows On My Side: You can play this game with horses or any type of animal you please. When you see cows on your side, for instance, you yell "cows on my side." If you see cows on the other side you yell "cows on your side." If you are able to say that before the other person sees, you steal a point. If you or anyone sees a cemetery they scream, "Ghost cow," stealing all the other side's points. If anyone sees a church they scream "Church Bells," thus doubling all of their cows.
Who AM I? One passenger in the car thinks of a person that everyone in the vehicle knows. It can be fictional or non-fictional. The person then has to start to give clues about the person and can only answer yes or no. Whoever guesses right first is then "it" and has to describe a person of their choice. The one who is "it" the most wins.
Helping Wishes Come True
If you are getting ready for your next big trip and you are noticing that your vehicle might not make it and its time for a new one, you can donate it to Wheels For Wishes and help make a child's wish come true. All you have to do is call us at 1-855-278-9474 or fill out our online donation form. Once this is finished you will receive a call from us within 24 hours to schedule a pick-up. In return for your donation, you will receive free towing and the best possible tax deduction.
What are you waiting for? Help dreams come true today!