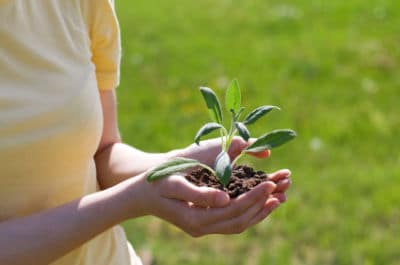 4 Ways To Make A Positive Difference On Valentine's Day
A lot of people see Valentine's Day as a day all about buying stuff for loved ones, but you can make it so much more than that when you get creative with your gifts or caring gestures. Chocolates or other not-so-good-for-you treats, flowers and stuffed animals are always fun to give and receive, but we've made a list of four things to try in case you'd like to make your gift even more special this year.
Plant A Tree Or Give A Potted Plant
No one can argue that a bouquet of flowers isn't a beautiful gift to receive. But it is always sad when they wilt after just a week and have to be thrown out. Instead of a temporary floral gift, consider buying a potted plant or flower instead. A plant will live for much longer, and it might even be possible to transplant it outside in the spring so it can grow even more.
Even better, buy a tree for your loved one and spend the day planting it together. What's more symbolic of love than planting something that will continue to live and grow? If you live in a colder climate, you may have to give a rain check on the tree and plant it later on.     
Give A Handmade Or Recycled Gift
Gifts made from recycled materials are unique and good for the earth. If your special someone cares about the environment, they will love receiving a low-impact gift made from recycled or repurposed materials. Have time to plan ahead for your gift? Consider keeping an eye out for handmade or recycled gifts at craft fairs or from independent artists online. You can get a great gift and support independent art in your community all at the same time.
If you're good at crafts, you can make someone feel extra special by giving them something you've made yourself. It often means a lot more to receive a handmade gift than something that came from the store. Not only is it something you spent time making, it's also one of a kind.
Don't have supplies for a particular project? Try a painting or pottery studio that teaches you how to make a project that you get to take home. Making mugs or paintings for one another can be a great way to bond while also making something that shows how much you care.
Adopt An Animal In Need Of A Home
No matter what your relationship status is on Valentine's Day, there might be a pet out there who needs your love. What better day than Valentine's Day to adopt a pet from a shelter who needs a home? A pet can be a great gift for someone else or even yourself. If you're buying a pet for someone, just make sure that that they really want a pet and would be devoted to taking care of it. It's not fair to the animal to be adopted and sent back right away! A new pet can be the perfect addition for any family, couple or person who wants to share more love.
Make Valentine's Day Sweet With A Car Donation
Valentine's Day is a great time to show your loved ones how much you care about them, but it can also be a great time to do something sweet for your community. On a day that's all about giving to others, what better gesture is there than making a car donation that will help children in your community have their greatest wish granted? Donating a car, truck, boat, RV or motorcycle to Wheels For Wishes benefiting your local Make-A-Wish will help fund the wishes of children who are battling critical illnesses.
If you'd like to make a positive difference with your car donation, simply give us a call at 1-855-278-9474 or fill out our online car donation form.