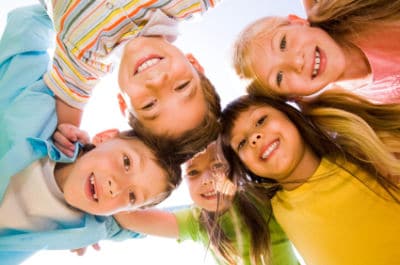 4 Orange County Events For A Great Cause
If you'd like to support Make-A-Wish Orange County while enjoying a lobster dinner, comedy show, or kids' carnival you won't want to miss the events coming up this August. Comedy For A Cause, the Lobsterfest at Newport Beach, the Dana Point Lobster Fest, and the Kaleido-Kids Mini Carnival are all can't-miss events that benefit Make-A-Wish Orange County. You're sure to have a great time at all of them, all while supporting a meaningful cause.
Comedy For A Cause
Get ready to laugh the night away at Comedy For A Cause Aug. 7. The event takes place at the Palm Springs Women's Club (314 South Cahuilla Rd.) in Palm Springs starting at 7 p.m. Enjoy performances from some of the county's best comedians including:
Richard Weiss, known for the Weiss Cracks comic strip, his role in National Lampoon, and being the winner of the Coachella Valley Comedy Festival.
Tom Clarke from Comedy Central, Premium Blend, and the Late Show.
Comedy duo Carl and Buzz, seen in Married With Children, Funny People, Out of This World, and many other performances. Buzz is also an Emmy Winner for his comedy writing.
Allison Ehret, known for her performances at Flappers and improv work.
Victor Vega, seen at the Ice House and The Comedy Store.
Comedy For A Cause doesn't just include good laughs. You can also enjoy a silent auction as well as food and refreshments. Best of all the night will raise funds for Make-A-Wish Orange County. Tickets are $50 each, and can be purchased by calling Lisa at 714-573-9794, ext. 234.
Lobsterfest At Newport Beach
It's the perfect time for a beach party, and if you've been meaning to get to one this summer you won't want to miss the Lobsterfest in Newport Beach Aug. 8. Fresh Maine lobsters are flown in the morning of the Lobserfest. The party is at the Newport Dunes Waterfront Resort (101 N. Bayside Dr.) and goes from 3 to 8 p.m. Make-A-Wish is one of the local charities benefiting from the event.
General admission tickets are $60, and include one whole lobster as well as a grilled steak and other delicious sides. If you'd like an upgrade, purchase a VIP ticket for $150, which includes valet parking, a reserved table with linens and china, complimentary wine, steak, and sides. Go all out with a VIP table for 10, costing $1,500 per table. With the VIP table you'll have reserves seating near the stage, company recognition as a table sponsor, full dinner service with all-you-can-eat lobster, wine and beverage service and valet parking. Get your general admission, VIP, or VIP table ticket here.
In addition to the delicious meal, guests can enjoy all that the Newport Back Bay area has to offer. There's a mile of beach front, as well as swimming, a playground, bicycle and kayak rentals, and other fun.
Dana Point Lobster Beach Fest
If you can't make it to Lobsterfest in Newport Beach, perhaps you'll want to come to the Dana Point Lobster Beach Fest Aug. 15 instead. The event takes place at Doheny State Beach at picnic areas A & B (25300 Dana Point Harbor Dr.) starting at 4 p.m.
Tickets are available now. Grab a general admission ticket for $75 until July 31, or $85 after Aug. 1. If you wait to get your ticket at the door it will be $100. If you'd like to upgrade, the Big Tail Table Ticket for $150 might be for you. Tables of 10 are also available for $1,500. Big Tail tickets and those at the tables of 10 will enjoy full table service as well as complementary beer, wine and signature cocktails.
In addition to a delicious lobster dinner, guests can enjoy a no-host bar, live music, a DJ, dancing and a fun silent auction. On top of that, the Dana Point Lobster Fest helps benefit Make-A-Wish Orange County!
Kaleido-Kids Mini Carnival
Last but not least in the lineup of events benefiting Make-A-Wish Orange County is the Kaleido-Kids Mini Carnival on Aug. 24. The event takes place at the Kaleidoscope Center (27741 Crowne Valley Parkway) in Mission Valley from 11:30 a.m. to 2:30 p.m. Grab the whole family and come out for a day filled with inflatables, jugglers, stilt walkers, face painting, games, a balloon artist and much more.
Your kids will have a blast, but your attendance also helps local kids have their wish granted. All of the event's proceeds benefit Make-A-Wish Orange County. To get the most out of the day, you're encouraged to bring a new backpack or toy to donate to Make-A-Wish. Each item will get you six game tickets and one try at the "Spin-to-Win."
Donate A Vehicle To Benefit Make-A-Wish
All of these events are great ways to help your local Make-A-Wish reach more children facing critical illnesses. Summers are busy, though, and if you can't make it to these events, consider a vehicle donation to Wheels For Wishes. Our car donation program benefits Make-A-Wish Orange County and helps them grant wishes for kids all over the Orange County and Inland Empire area.
Car donations to Wheels For Wishes are also tax deductible, and we provide free towing for all donated vehicles. Your car doesn't even have to run in order for it to help wishes come true. Give us a call at 1-855-278-9474 or make your donation online and let us take care of all the work!