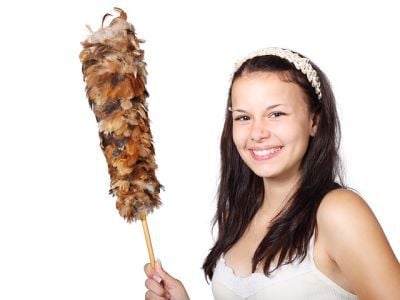 11 Things You Can Donate During Spring Cleaning
Today is the official start of spring! If you like to kick off spring by getting some cleaning done around the house, then you're among the 72 percent of American households that participate in Spring Cleaning, according to the American Cleaning Institute. The most common areas to tackle during spring cleaning are windows, blinds, closets and drawers. 
This year, on top of tidying up and freshening your home, why not try getting something extra in return for all your cleaning efforts? When tackling rarely cleaned areas, you're bound to come across things you forgot you even had. That's what makes spring cleaning the perfect time to declutter as well!
Get A Tax Deduction Out Of Your Spring Cleaning Efforts
Instead of just reorganizing things you don't necessarily use or want anymore, consider donating your items instead. Not only does this clear up space in your home, it also gives you the perfect opportunity to eke a few tax deductions from your cleaning efforts.
Here are 11 items you may not have thought of donating for a tax deduction:
Clothing. A great way for deciding which clothes to keep and which to get rid of is to simply hang them in your closet with the hanger facing backwards. If you wear the item in the near future, you can hang it back up the way you normally would. Anything that's still on a backwards hanger after 6 months can be donated.
Dishes. Over the years, it's easy to accumulate a random assortment of mugs, bowls, utensils and other items you rarely – if ever – use. Consider taking everything out of your cupboards and only putting back the items you use on a weekly basis. Put everything else in a box for storage. Anything you don't need to dig out of the box after a month can be donated.
Shoes. The average American owns anywhere from 12 to 27 pairs of shoes, and many of these pairs are only worn once! If this is an area you want to downsize, it's easy to donate shoes just as you would donate clothes.  
CDs and movies. With streaming taking the place of DVDs and CDs, you likely have a few old movies or a shelf full of CDs you never use. Box up the ones you no longer want and drop them off for donation.
Craft supplies. Over the years, it's easy to accumulate a large store of random craft supplies you never use. Yarn, beads, craft paint, markers, paper and other craft supplies can all be donated.
Stuffed animals. As kids grow up, they tend to grow out of their interest in certain stuffed animals and other toys. Unwanted toys can take up a huge amount of space, making them the perfect thing to donate.
Extra home improvement items. When repainting, renovating or redecorating, you will always end up with left over supplies like tiles, plumbing fixtures, lighting fixtures, lumber, specialty tools or other parts. You can clear up a lot of space in your basement or garage when you get rid of these items.
Furniture. As your family's needs change, so do your needs for furniture. Gather up any unused shelves, cabinets, chairs, or couches that your family no longer needs.
Your car. Vehicles such as cars, boats, RVs and motorcycles can all be donated. Of all your possessions, vehicles tend to take up the most space. If you have an extra car or a seasonal vehicle you don't use, create some extra room by donating it.
Home décor. When remodeling or redecorating, you're bound to come across pictures, wall hangings, trinkets and souvenirs that you no longer like. If you're redecorating a kid's room this spring, it's also a great time to assess which décor items they've grown out of.
Books. Just like CDs and DVDs, books are becoming a thing of the past for many people. If you've switched to an e-reader, gather up the books you no longer want and consider giving them to a charitable cause.
Where To Donate Your Items
Clothes, household items and entertainment items can be donated to small, local thrift stores or larger nonprofit organizations that run thrift stores. Craft supplies can be donated to churches, local youth groups or secondhand art supply stores. Toys are often accepted at church charities as well, or groups that help families during emergencies or medical issues. Shoe donations are typically accepted through mail-in programs or in drop-off boxes, often found at shoe stores. Good quality home improvement and remodeling items can be donated at thrift stores that sell discounted building supplies.
No matter where you donate, just be sure to catalogue the value of your donated items. When non-cash items are valued below $250, the IRS allows you to use the receipt that you receive from the organization you donated to.
How To Get A Tax Deduction When Donating Your Car
Vehicle donations are a little different than other non-cash donations. While you can claim the fair market value of most household items in any situation, the tax deduction for your vehicle donation is based upon the actual amount for which the car sells.
In the event your car sells for less than $500, you can claim the fair market value up to $500. When the car sells for more than $500, the donor can claim the exact amount that the car sold for.
Tax deductions can seem complicated, but the staff at Wheels For Wishes handles these questions on a daily basis! Get started with your vehicle donation to Wheels For Wishes by calling 1-855-278-9474 or filling out an online car donation form. Your donation is tax deductible, you receive free towing, and the proceeds from your donation help your local chapter of Make-A-Wish.