Beaumont Car Donation Helps Texas Make-A-Wish Kids
It's easy to grant wishes for Beaumont kids when you donate an old car to Wheels For Wishes, benefiting Make-A-Wish® Texas Gulf Coast. Plus, you also benefit from the donation because we make it easy to get rid of an old vehicle and you get a great tax deduction.
But most importantly, tax-deductible car donations allow you to grant the wish of a local child and it's something you will feel great about doing for years to come. Donate a car in Beaumont to our vehicle donation program for a great tax deduction today!
Donate your car in Beaumont, TX to help Make-A-Wish kids in the Texas Gulf area!
Wheels For Wishes is a vehicle donation program benefiting Make-A-Wish® Texas Gulf Coast. Our charity vehicle donation program helps turns cars, trucks, motorcycles, SUVs, RVs, and even boats in to wishes for children in the Beaumont area and all over Texas, such as Port Arthur, Pasadena, Galveston, Conroe, Lufkin, and more.
Car donation is an easy, fast, and beneficial alternative to selling or trading in an old car. Donating a car saves you time and money, but most importantly, it allows you to help local kids.
Get Rid Of Your Car And Get Benefits Back
Free pick-up and towing of all vehicles, running or not, anywhere in Texas
The maximum possible tax deduction for your charity car donation. Unlike many others we are a fully registered IRS 501(c)(3) Non-Profit Organization.
Professional service that makes the car donation experience simple and easy.
The knowledge that your vehicle will help a Beaumont child.
Beaumont car donation provides a special opportunity to Make-A-Wish kids in Texas.
Car donation is so easy and the benefits are endless. Not only do you get rid of an old car in one of the easiest ways possible, but you are helping to grant the wish of a local child.
Your old car doesn't even need to be running in order to grant wishes, and we'll pick it up or tow it away at no charge. The whole process of donating a vehicle is fast and easy. The sooner we can get to granting wishes for local kids, the better!
When you sell or trade in an old vehicle, you have to go through the hassle of haggling over a sales price, getting any possible car repairs, and driving around to show the car to potential buyers. The whole process can be frustrating and stressful.
When you donate a vehicle to Wheels For Wishes, we take care of every detail for you.
We Come To You With Free Towing Anywhere in The Beaumont area
We pick up your vehicle for free anywhere in the the Texas Gulf Coast area including:
Beaumont Car Donations Have Given Make-A-Wish Over $109 Million Since 2010
Since 2010, Wheels For Wishes has been granting the wishes of kids in Beaumont and all over Texas. Your car donation makes this possible, and the whole car donation experience is easy and hassle-free.
Just a few minutes of time spent to make your donation could send a child on their dream vacation or to meet their favorite sports team. Just imagine all of the possibilities that your car donation would allow.
How To Donate A Car In Beaumont, TX
Donating a car is easy through Wheels For Wishes, and it will provide children with memories to last a lifetime.
Start by giving us a call at 1-855-278-9474 or filling out our easy vehicle donation form. Our experienced vehicle donation representatives are available any time to help you with the donation process and answer any questions you might have.
Next, we'll contact you within 24 hours of the next business day to arrange for your vehicle pick up! We tow any vehicle, anywhere in Texas, at no cost to you.
Finally, we'll mail out your tax deductible receipt. Save this for your tax deduction at the end of the year. Your tax professional will help maximize your tax-deductible receipt. Any donations we receive on-line before 12:00 A.M. January 1st count for that tax year, so now is the perfect time to donate a car in Beaumont.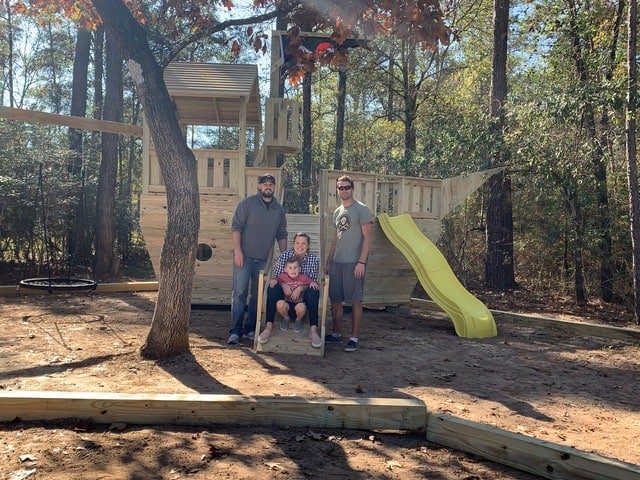 Donate A Car in Beaumont, And Anywhere Else In Texas
Our charity vehicle donation program offers free pick up for car donations almost anywhere in Texas!
And nearly anywhere else in Texas!