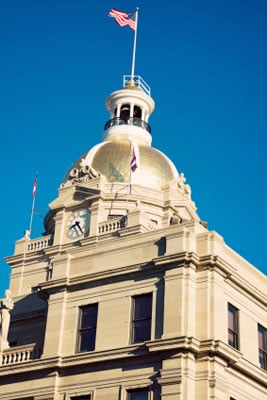 Donating a car to charity in Savannah is easy and rewarding with Wheels For Wishes. We make it easy to help a local child diagnosed with a life-threatening condition experience the joy of a wish. Wheels For Wishes is a vehicle donation program benefiting Make-A-Wish® Georgia, and is committed to granting wishes of kids right here in Savannah and all of Georgia, including Statesboro, Dublin, Macon, Perry, Cordele, Tifton, Douglas, Waycross, Kingsland, and more. Our charity car donation program helps turns cars, trucks, motorcycles, SUVs, RVs, and even boats in to wishes for children in the Savannah area and all over Georgia.
Help a local child experience any number of things that our charming city has to offer. Savannah is an amazing place to explore with numerous children's activities including railroad museums, nature tours, and play centers. Plus, not only will a child benefit from your donation, but you will too! We make getting rid of your car so easy, and we'll take care of everything for you. Car donation is a convenient alternative to selling or trading in your vehicle. Best of all, our no hassle approach takes care of all the hard work for you. Donating a car is made simple when you donate to Wheels For Wishes.
Get The Most Good For Your Vehicle Donation, Our 100% Tax Deductible Program Offers:
Free pick-up and towing of all vehicles, running or not, anywhere in Georgia including Augusta.
Get the maximum possible tax deduction for your charity vehicle donation. Unlike many others we are a fully registered IRS 501(c)(3) Non-Profit Organization.
Our professional service makes the vehicle donation process simple and easy.
The knowledge that your vehicle will help a Savannah child.
Children love the Roundhouse Railroad Museum, the largest and most complete antebellum railroad facility still in existence in the world. Full of restored engines, cars and cabooses, the museum offers an abundance of areas for children to act as a "conductor" or learn about the early days of train transportation. The Roundhouse Museum also has a fully functional machine shop, motorized turntables and a smokestack, giving kids a glimpse of the inner workings of the railroad industry.
Families can explore the beauty of the rich Georgia landscape with a Wilderness Southeast nature tour. There are a wide range of private tours traveling the heart of Georgia: explore the wild islands through the marsh creeks, search for dolphins and watch the salt marsh food chain in action, hike to an alligator pond and hunt for shark tooth fossils, patrol the rivers and swamps on the lookout for reptiles, use Wilderness Southeast's telescope to get lost in the night sky, or challenge your curiosity on the urban forest tour. There are tours for travelers of all abilities and interests at Wilderness Southeast and all tours are within driving distance from downtown Savannah.
Kids can escape to the campgrounds on Skidaway Island State Park. With 87 campsites, five picnic shelters, three pioneer camps and one group shelter, Skidaway Island is a great place to enjoy the great outdoors. The state park offers bike trails, disc golf, fishing, boating, golf, hiking trails, swimming, tennis and even horseback riding. Kids can search for more than 350 species of birds within the State Park and take a swim underneath the Skidaway Island waterfalls. They can jump from one activity to the next and return to their tent just in time for an evening bonfire.
Plenty of places for kids To have a ball in Savannah
Monkey Joe's is a young child's dream world. An inflatable play center, Monkey Joe's is ideal for children 12 years old or younger, with opportunities for wall-to-wall jumping and bouncing on the inflatable obstacle course. The energy levels are high inside Monkey Joe's, but children are quickly exhausted from all the fun.
Wheels For Wishes accepts all car donations, whether your car is a late model or not running at all. It only takes a few seconds for Wheels For Wishes to schedule your vehicle for pickup, and you"ll receive a tax deductible receipt for next year's taxes. Your car donation will go a long way toward helping to fulfill a young child's wish.
Three Easy Steps To Donate A Vehicle To Benefit Savannah Kids
We make the process as easy as possible whether donating on-line or by phone.
Start by giving us a call at 1-855-871-9474 or filling out our easy vehicle donation form. Our experienced vehicle donation representatives are available any time to help you with the donation process and answer any questions you might have.
Next, we'll contact you within 24 hours of the next business day to arrange for your vehicle pick up! We tow any vehicle, anywhere in Georgia, at no cost to you.
Finally, we'll mail out your tax deductible receipt. Save this and deduct it from your taxes at the end of the year. Any donations we receive on-line before 12:00 A.M. January 1st count for that tax year, so there's never been a better time than now to donate a car.