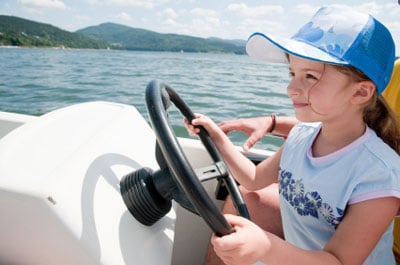 We do more than just car donation. That old boat sitting in your yard can help make life better for a local child. You can save money on insuring a boat that hardly ever gets used and help local children's charities at the same time. Put that boat donation to good use by donating it to charity!
Donate your boat to Wheels For Wishes for a hassle-free process that provides you with great benefits. Not only does boat donation help a local child, but you will also be eligible for an itemized charitable tax deduction on your federal tax return. Our Vehicle Donation FAQs can help explain it all, or call your tax advisor for more information on how to fully deduct your charity boat donation. We make donating your boat so easy, and we'll take care of all the work for you. Wheels For Wishes picks the boat up and handles all the details.
We make sure the funds from your boat donation go to a good cause. When you donate a boat, it's a whole lot easier than putting an expensive ad in the paper, taking repeated phone calls, showing your boat off to multiple people, and haggling over the sales price. We pick up the boat free of charge to you and use the proceeds to benefit local children's charities. Donate a boat today to make a difference in the life of a local child who has a life-threatening medical condition or is facing long hospital stays!
Eight Reasons To Donate A Boat To Our Charity Boat Donation Program
We are an IRS-approved 501(c)(3) organization, which allows you to qualify for the maximum tax deduction.
We are a reputable and well-known charity - The funds generated from your boat donation are used to help children from your own community by benefiting children's charities.
We handle all of the paperwork for you - We take care of the title transfer and the paperwork required in order to receive the charitable tax deduction on your tax return.
Fast, free pick-up and towing - We will come and pick up any vehicle for free - even trucks that don't run! Some exceptions apply such as needing a trailer to tow a boat, so feel free to contact us to verify.
We accept most vehicles - including cars, trucks, vans, fleet vehicles, trailers, boats, RVs, SUVs, and motorcycles.
It's green - you are recycling your boat.
You eliminate the hassle of selling or trading in your boat.
Best of all, boat donation is easy and stress free!
Boats are great when you're out on the water, but they can be stressful to tow around, store and take care of. Most of us don't have enough storage room for a big boat, which means paying for space at a marina or leaving your boat outside exposed to the elements. With growing concern over transferring invasive species from lake to lake, it's also more difficult to take your boat anywhere you want these days.
Your boat brought you and your family good memories of fishing, tubing and cruising along the shoreline. When it's time to move on, put your boat to good use by donating it to Wheels For Wishes!
Donate your boat now by calling 1-877-431-9474, or using our online boat donation form.