Parma Car Donation Helps Ohio Make-A-Wish Kids
You can help Make-A-Wish kids from your home in Parma, Ohio! How? Donate a car to Wheels For Wishes!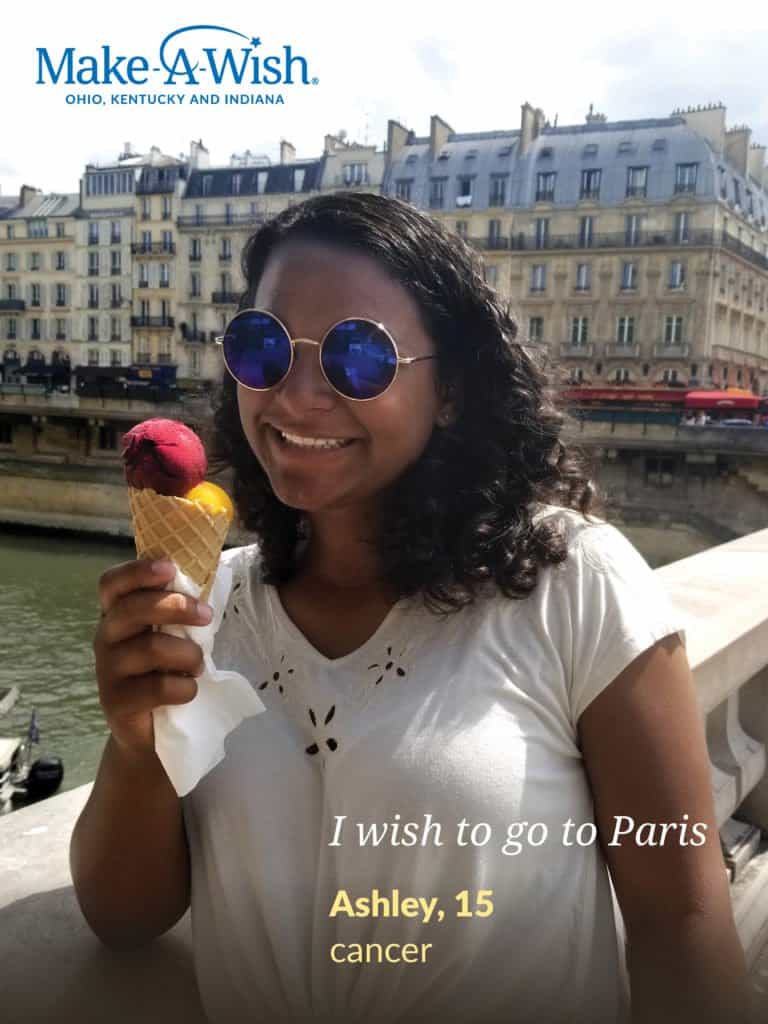 Parma, Ohio car donations like yours provide wishes like 15 year-old Ashley's wish to go to Paris.
We take your donated vehicle and turn it into life changing wishes for Parma, Ohio kids. Plus, your donated vehicle gets FREE pickup and you get a great tax deduction.
Donate Your Car To Charity, Benefiting The Kids Of Parma, Ohio
Wheels For Wishes is a vehicle donation program benefiting Make-A-Wish® Ohio.. Our Ohio car donations program helps turns cars, trucks, motorcycles, SUVs, RVs, and even boats in to wishes for children in the Parma area and all over Ohio, such as
Car donation is a convenient alternative to selling or trading in your vehicle. You will feel great about your smart, easy, and generous car donation all year long. Parma, Ohio car donation can also help you get a tax deduction for the fair market value of your vehicle.
Parma car donations help Ohio wishes come true!
The Best Ohio Car Donations Program
Free pick-up and towing of all vehicles, running or not, anywhere in Ohio including Columbus.
Get the maximum possible tax deduction for your charity vehicle donation. Unlike many others we are a fully registered IRS 501(c)(3) Non-Profit Organization.
Our professional service makes the vehicle donation process simple and easy.
The knowledge that your vehicle will help a Parma child.
Parma, Ohio Car Donations Helps Make Dreams Come True
Is there an extra, unwanted vehicle sitting in your driveway? Use that car to make a difference through Wheels For Wishes & your Ohio car donations.
In affiliation with Make-A-Wish Ohio, Wheels For Wishes collects Ohio car donations to help fund wished-for events by kids right here in Parma, Ohio. Wheels For Wishes collects cars to benefit these children fighting critical illnesses throughout the Parma area.
With all children, each moment is precious. Make-A-Wish Ohio knows how to make happy, joyful days for children with critical illnesses. Your Ohio car donations make all the difference.
Wheels For Wishes aims to maximize the joyful moments by providing more children with the opportunity to experience their wishes.
We Will Take Almost Any Vehicle For Free In Parma, Ohio!
The car you no longer need will become a welcome sight for children throughout the Parma, Ohio area. Wheels For Wishes provides you the magic wand to turn a car from old junk into a vehicle for joy.
You have the added benefit of knowing it is going to help your local community. For contributors, there is no question that your Ohio car donations have an immediate impact right in their own backyard.
Cars
Trucks
Trailers
Motorcycles
ATV's
Boats
Watercraft
And More!
Car Donations Earn Great Tax Deductions!
All car donations are tax-deductible, making it a good investment as well as a charitable act. After your car donation is complete, you get a 100 percent tax deductible receipt in the mail.
Use this on your 1098-c form during tax season to claim your amazing tax deduction. Car donation to Wheels For Wishes really pays!
The organization easily answers any questions that may arise regarding taxes or car donation. Check the Wheels For Wishes website for more information and tax FAQs.
The Wheels For Wishes website is also an excellent venue for checking up on how your car donation makes an impact. The website often shares stories of how the foundation fulfills wishes for kids with critical illnesses.

How Do I Donate A Car In Parma, Ohio?
It's easy to help make wishes come true for kids in Parma, Ohio with a car donation!
Start by giving us a call at 1-855-278-9474 (WISH) or filling out our easy vehicle donation form. Our experienced car donation representatives are available any time to help you with the donation process and answer any questions you might have.
Next, we'll contact you within 24 hours of the next business day to arrange for your vehicle pick up! We tow any vehicle, anywhere in Ohio, at no cost to you. That's right! We pick up your generous car donation for free!
Finally, we'll mail out your tax deductible receipt. Save this tax receipt and deduct it from your taxes at the end of the year. Any car donation we receive on-line before 12:00 A.M. January 1st count for that tax year, so there's never been a better time than now to donate a car. You'll be able to deduct the fair market value for your vehicle donations.
Our easy car donation program offers you free towing for all vehicle donations. Not only do we offer free towing for any car owner, we also provide you an easy tax receipt for your car donations.
Wheels For Wishes will accept vehicles from any registered owner. Plus we'll do all the paperwork for you! You just gave to give us a signed title and your free vehicle pickup is as good as done!
Your old car can help charity programs every time you donate a car in Parma. If you have a signed title by the registered owner, donate your car to save money on the next one.