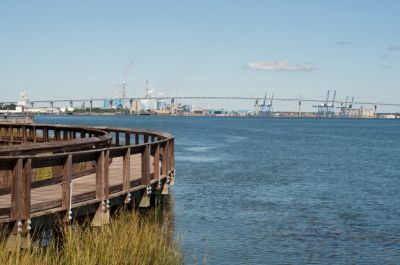 Wheels For Wishes is a car donation program that benefits Make-A-Wish South Carolina. Our charity vehicle donation program works to turn cars, trucks, SUVs, ATVs, RVs and boats into wishes for children in the North Charleston area and all over South Carolina. Donating a car to Wheels For Wishes is easy and a great alternative to selling or trading in your vehicle. You can avoid the stress of selling your car when you choose to donate your vehicle to Wheels For Wishes.
When you choose to donate a car to charity in North Charleston, S.C., through Wheels For Wishes, your auto donation will go a long way in helping Make-A-Wish grant wishes for children with life-threatening medical conditions. North Charleston is a great city for kids to explore, with museums like The H.L. Hunley Museum, The Greater Charleston Naval Memorial and The American LaFrance Fire Museum that can keep a child captivated for the entire day.
Get The Most Out Of Your Vehicle Donation, Our 100 Percent Tax Deductible Program Offers:
Free pick-up and towing of all vehicles, regardless of condition, from anywhere in South Carolina, including North Charleston, Columbia, Charleston and Mount Pleasant.

Receive the maximum possible tax deduction for your car donation. Unlike many other car donation charities, we are a fully-registered IRS 501(c)(3) nonprofit organization.

Our professional service will make the vehicle donation process simple and easy.

Feel great knowing that you have helped grant a wish for a child in your North Charleston neighborhood.
Children in North Charleston enjoy walking through parks at the Caw Caw Nature and History Interpretive Center and Wannamaker County Park – where they can see the natural wildlife and trees of the area. There are also some exciting water parks in North Charleston, like Splash Island and Whirlin' Waters that have been entertaining children and adults for years! Enjoy The Big Kahuna wave pool or Riptide Run mat racer at Whirlin' Waters, or escape the heat with a lazy float on Rollin' River.
In a climate that can average temperatures in the upper 70s throughout the summer, getting out of the heat might be at the top of your priority list in North Charleston. Luckily, there are Marinas, boat landings, beach parks and fishing piers all along the Atlantic for families to enjoy. Catch the crisp breeze of the ocean or try your luck fishing off of The Folly Beach Fishing Pier. There are plenty of opportunities to be entertained in North Charleston.
A Day With Family Can Be Perfect For A Wish Kid
A Wish Kid might enjoy a day relaxing with their family and taking in some of the arts that North Charleston has to offer. The Coliseum and Performing Arts Center is a state hub for theatrical performances and has played host to some world renowned musical and theatrical performers. The Coliseum is also home to The South Carolina Stingrays – the first professional ice hockey team established in South Carolina.
Whether a child chooses to meet their favorite athlete, their favorite performer, or just enjoy a nice day on the beach with their family, you can help make that wish come true with your donation to Wheels For Wishes. We make car donation easy. Just tell us where to pick up your vehicle, and we will take it away at no cost to you. You even get a 100 percent tax deductible receipt when you file for your next year's taxes! You have the power to make a difference in the life of a child in your neighborhood.
Three Easy Steps To Donate A Vehicle In North Charleston
Donating a vehicle is easy and can be completed online or by phone in just three steps.
First, start by giving us a call at 1-855-502-9474 or by filling out our easy vehicle donation form online. Experienced vehicle donation representatives are available to help you throughout the donation process and answer any questions you might have.

We will then contact you within 24 hours of the next business day to arrange for your free vehicle pick-up! We can tow your vehicle from anywhere in South Carolina.

Finally, we will mail your tax deductible receipt which you can save and use to deduct your donation from your taxes at the end of the year. Make your donation by 11:59 p.m. Dec. 31 and it will count toward that same tax year! Don't wait, now is the best time to donate your car!