Wheels For Wishes is a vehicle donation program benefiting Make-A-Wish Northeastern California and Northern Nevada. Your unwanted car, truck, boat, motorcycle, or RV can be turned into a wish for kids in Reno and all over northern Nevada and northeastern California when you donate it! You might not think your vehicle can make much of a difference, but to a Reno child, it could mean the world!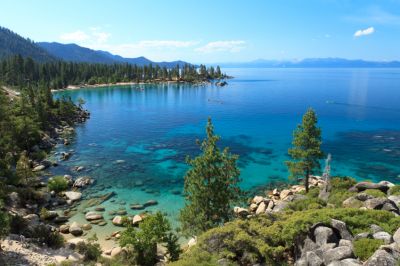 Not only is car donation a great way to help someone in your community, it's also a convenient alternative to selling or trading in your vehicle. Plus, we are able to accept almost all vehicles regardless of whether they run or not. When you donate your vehicle through Wheels For Wishes benefiting Make-A-Wish Northeastern California and Northern Nevada, you can feel great knowing that it will help Make-A-Wish bring hope, strength, and joy to children right in your community.
Help A Reno Child Enjoy All Nevada Has To Offer
Reno has so much to offer for kids and adults alike. With classic car conventions, local NBA development league and Minor League Baseball teams, The Great Reno Balloon Race, and beautiful Lake Tahoe, there's plenty to see and do in "The Biggest Little City in the World." Not all kids can enjoy all that this area has to offer if they are facing a critical illness. Luckily, you can help Make-A-Wish reach more deserving children and grant their wishes when you donate a vehicle to Wheels For Wishes.
While many wishes involve traveling to far-off places, some Make-A-Wish Wish Kids want to stay close to home and enjoy all the fun things to do in their home state. Children who love sports may wish to spend the day with their favorite Reno Aces player or Reno Bighorns player. Animal lovers might wish for a fun-filled adventure at the Animal Ark Wildlife Sanctuary or at the Sierra Safari Zoo. Other kids may wish for a vacation exploring Lake Tahoe's many hiking trails or ski slopes. You can help make wishes like these come true when you donate your vehicle to Wheels For Wishes.
Our 100% Tax Deductible Program Gives You The Most For Your Generous Donation:
Fast, free pick-up or towing of all vehicles, running or not, in Reno, Sacramento, and nearly anywhere else in northeastern California and northern Nevada.
The maximum possible tax deduction for your charity vehicle donation. Unlike many others, our car donation program is a fully registered 501 (c)(3) nonprofit organization under the IRS code.
Professional service that makes the donation process simple and easy.
The knowledge that your vehicle will help a Reno child.
Three Easy Steps To Donate A Vehicle To Benefit Reno Kids
Not only is our program an easy way to get rid of an unwanted vehicle, it's also a great opportunity for you to help make a difference in the life of a local child. Now is your chance to create a significant impact for a kid in Reno!
Start by giving us a call at 1-855-278-9474 or filling out our easy vehicle donation form. Our experienced vehicle donation representatives are available day or night to answer any questions and help you with the donation process.
Next, we'll contact you within 24 hours of the next business day to arrange for your vehicle pick-up. We will pick up and tow your vehicle at no cost to you, anywhere in northeastern California and northern Nevada.
Finally, we'll mail out your tax-deductible receipt. Save this and deduct it from your taxes at the end of the year. Any donations we receive online before midnight on Dec. 31 count for that tax year, so there's never been a better time than now to donate a car.