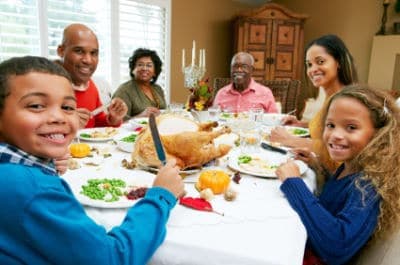 Thanksgiving - A Great Time To Say Thanks
Thanksgiving was originally a day for farmers and communities to give thanks for the harvest at the end of the fall growing season. Now, most people use a more broad approach to Thanksgiving, recognizing everything in their lives they have to be thankful for. Surrounded by family and food along with some much appreciated time off from work, there are always plenty of things to be thankful for on Thanksgiving Day.
Thanksgiving is a great time to look back upon your blessings throughout the year, but it is also a great time to gaze forward and find ways you can give back to the community. Even if you have very little, there is always something you can do to build up the people around you. You can volunteer at the local food shelf, read to the elderly, tutor young children or just walk animals at the shelter. Nonprofit and charitable organizations are desperate for volunteers this time of year – with the holiday season beginning there are more opportunities than ever to give back. Even a little help can go a long way for these organizations when everyone comes together toward a common goal. Here are five great ways to give back to your community this Thanksgiving.
A Random Act Of Kindness
Probably the simplest way to give back any time of the year is through a random act of kindness. Random acts of kindness are truly what giving back to the community is all about. Just find something or someone that needs help and lend a hand. It could be pulling the car over to help someone fix a flat tire, or raking your neighbor's lawn. The best thing about a random act of kindness is that it is contagious! When you help someone, they are more likely to go out and help someone else.
The weather is getting cooler and snow is just around the corner for much of the United States. During the next big snow storm, you could take your shovel or snow-blower and clear the snow from the sidewalks of your entire block! Random acts of kindness are simple, but can really turn someone's day around.
Volunteer At The Food Shelf Or Homeless Shelter
Food shelves and homeless shelters are especially busy this time of year. The weather is too cold to spend any time outside, and food shelves are preparing for the holidays by collecting more food than usual. When the necessity of these organizations increases, so too does the workload. You can make a difference in the life of a stranger by volunteering locally.
Working at a food shelf or homeless shelter is easy and rewarding. It consists of loading shelves, helping customers and organizing stock. It is also a very rewarding experience! You get to meet people from all sorts of different backgrounds and hear their stories. Build relationships with fellow volunteers and the people you are helping while also enhancing your personal experiences and skills.
Tutor Children Or Volunteer With The Elderly
There are afterschool tutoring programs at many schools, where well-qualified applicants can help children who are falling behind on their homework. Take the time to help a child in need, while also brushing up on your own math and reading skills! If you like teaching, these after school programs offer a great opportunity for you to give back. If you want to help children, but aren't really comfortable teaching – try volunteering at a boys or girls club as a mentor.
Looking to help someone a little bit older? No worries, there are plenty of opportunities for you to accomplish that as well. Assisted living and nursing homes take volunteers to play cards, read, play bingo and just spend time with the elderly. This is one of the most rewarding experiences you will ever have. Spend some time with individuals who have really been through it all. Listen to their stories and take away memories that will last you a lifetime.
Volunteer At An Animal Shelter
If you spend most of your days helping people at work, maybe you would rather not volunteer working with people. A great option for those of us that just want to get away – or who really enjoy the company of animals – is volunteering at the local animal shelter or humane society. Volunteer options range from cleaning shelters and feeding the animals, to just walking and petting all of the animals.
Volunteers at animal shelters are always needed. Some shelters will even take a volunteer who is only planning on volunteering for one day. If you'd like to volunteer more often, that is also appreciated. Help once a week, once a month or every day! The choice is yours – do what you feel comfortable with doing.
Make A Donation
Let's face it, our schedules can get very busy this time of year. We are preparing to host a family gathering, creating tasty meals, getting our last minute shopping done and just trying to finish our year-end work. As much as we'd like to give back to our community, we don't always have time to volunteer. If that is your situation this year, consider making a donation! Our partner, Make-A-Wish, is one of the best organizations you can help this holiday season.
There are so many ways to give! You can make a general donation, fundraise, donate airline miles and so much more. Your donations will help children in communities across the United States, including Brooklyn, Chicago, Los Angeles or Houston.
Making a donation is easy, and Wheels For Wishes is here to make it even easier! We use your car donation to benefit your local Make-A-Wish chapter. Just call 1-855-278-9474 or fill out a vehicle donation form online. We do the rest. Plus, your donation is tax deductible and we will pick-up or tow away your vehicle for free! You lose the eyesore from your property, and a child with a critical illness receives strength and hope.
Give Back This Thanksgiving
Happy Thanksgiving to everyone celebrating this November. If you need help finding someplace to give back this month, check out Volunteer Match – a great resource for finding a place to volunteer. You can narrow your search for places that are looking for volunteers by searching for opportunities that match your interests and location. Choose the best nonprofit for you from the results of your search. Make a difference in the life of a stranger today.