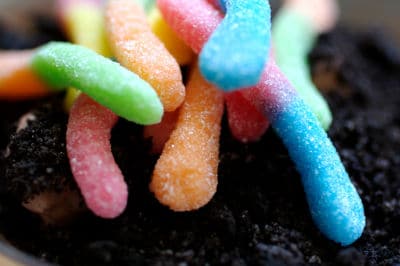 Get Spooky With It
Halloween is a fun and creative holiday, so why not have some spooky fun with it. Have fun with the family making festive decorations and spooky food.
Decorations All Creatures Can Enjoy
Halloween decorations can be expensive and make you limit how much you decorate. Here are some great ideas for decorations you can make with the family that will give your guests a frightful experience.
Have your kids help decorate the front door with construction paper, by cutting out faces and taping them to the door.
Paint or cut out pumpkins. You can find some fun stencils online.
Make a puff ghost. Cut out a ghost outline then have your kids glue cotton balls on the paper and use construction paper to make a face. Then when you're done you can hang them with string.
Paper plate spiders are sure to be a hit. Have your kids color paper plates then attach pipe cleaners and eyes then watch as the spiders take shape and use them to decorate around your house.
Once you have your spiders you can make spider webs so you can add to the affect.
Spooky Food
Have great fun while preparing food that is guaranteed to shock your guests.
Halloween popcorn is easy to make and is a great snack food for kids and adults.
One of my all-time favorite spooky foods is dirt cups. Made out of chocolate pudding, Oreos and bright crawlers.
If you have a large punch bowl make some delicious punch then make it scary by freezing water inside a surgical glove and peeling the glove off once frozen so you're left with an ice cube hand for the punch.
A great snack for the kids to help make is their own caramel apples. Instead of going to the store this year, your kids can dip their own apples into caramel and put whatever toppings they like on it.
To make fun apple mouths, cut out a wedge in the apple, then fill it with peanut butter and use marshmallows as teeth.
Gross out your guests and make some slimy worms, by making Jell-O in straws.
As you're having fun making these spooky crafts and scary foods. It's a good time to become someone's fairy godmother or wizard by donating your unused vehicle to Wheels For Wishes, benefiting Make-A-Wish. We are a car donation program that turns vehicles into funding for kids' wishes. We offer fast and free vehicle pick-up and a tax deduction for your vehicle. You can see what charities we benefit in your area by clicking on our chapter locater. Don't waste your time trying to sell your unused vehicle. Fill out our car donation form online or call us at 1-855-278-9474. Don't let the vehicle sit around any longer and donate it today!