Channel Your Inner Yogi For Make-A-Wish Hudson Valley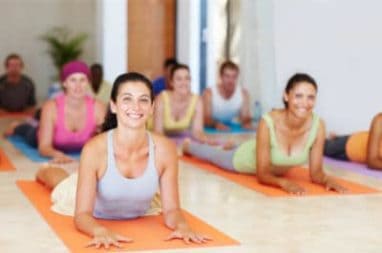 Yoga can be terrific for people, whether they seek exercise, increased flexibility or meditation. Many people make room for yoga in their schedules. Whether they try to squeeze in an hour before work, or a quick class over the lunch hour, it's become a beneficial use of time. One way to get yourself centered while helping many deserving children who suffer from a critical illness​ is to take part in the 3rd Annual Yoga For Wishes Yogathon, with proceeds going to benefit our partner, Make-A-Wish Hudson Valley.
The event will be held on Sunday, Dec. 8, in the ballroom at The Garrison (2015 US 9), where you'll be surrounded by the beautiful and peaceful hills of the Hudson River Valley. The class will be taught by inspiring teachers from the Hudson Valley: Whitney Chapman, Neva Goldstein, and Brigid Murray.
Show Your Warrior Pose For Make-A-Wish
Yogathon's purpose is once again to raise much-needed funds for Make-A-Wish Hudson Valley. Founded in 1986, Make-A-Wish Hudson Valley has granted the wishes of more than 2,100 children in the eight counties of the Hudson Valley region – Delaware, Dutchess, Orange, Putnam, Rockland, Sullivan, Ulster and Westchester – who are battling critical illnesses.
While wishes are referred and completed on an ongoing basis, an average of 160 wishes are in progress at any given time. The current average cost of a wish ranging between is $7,500, which makes events like the Yogathon so important.
You can register online for the event now. If you can't attend, you can support a participant or even make a general donation. However you choose to participate, your generosity will be greatly appreciated. There's no award for most flexible, but you can win an award for raising the most funds. Don't let your inexperience in yoga hold you back from participating in this great cause!
Want Other Ways To Donate? Cars, Trucks And Boats Are Welcome!
Another way to support the mission of Make-A-Wish Hudson Valley is to donate an unwanted car, boat, truck or RV to Wheels For Wishes benefiting Make-A-Wish Hudson Valley.
Wheels For Wishes accepts vehicles in any condition so Make-A-Wish can continue to grant wishes for local kids in your community. Donate a car, truck, SUV, RV, motorcycle, or boat, and help turn your unwanted vehicle into a wish come true. In addition to doing something to make a Wish Kid and their family feel great, you'll get a tax donation.
To donate a vehicle to Wheels For Wishes, benefiting Make-A-Wish, please call 1-877-431-9474 fill out our easy vehicle donation form. You won't regret it!

Back to Blog