Wisconsin Takes Two Steps Toward Wishes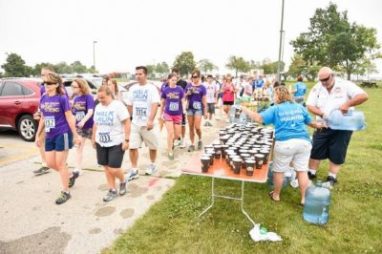 On August 27, lace up your running shoes for these two events hosted by Make-A-Wish Wisconsin. The Apple Tree Connections Dash For Dreams and the Walk For Wishes are two fun-filled fundraisers that will turn your exercise into wishes! Both events feature a walk and/or a run, and the proceeds from both events go toward benefiting Make-A-Wish Wisconsin, and granting wishes for local children with critical illnesses. Help these events hit the ground running today!
Apple Tree Connections' Dash For Dreams
This year's Make-A-Wish Dash For Dreams is hosted at Apple Tree Connections (5020 Providence Ave., Appleton, Wis. 54913) on August 27. Registration for this healthy family affair begins at 7 a.m., and the run begins at 8:30. Participants can either run or walk the 5k distance. Whether you decide to walk or run, you can either push yourself or go at a leisurely pace in this family-friendly environment. Registration is $20 for adults and $15 for children, and you can learn more by contacting Tina. All of the net proceeds will go toward granting wishes of hope, strength and joy to local children in Wisconsin.
Walk For Wishes In Milwaukee
Walk For Wishes will be held on August 27 at the Henry W. Maier Festival Park (200 N. Harbor Dr., Milwaukee, Wis. 53202). Registration opens at 8 a.m., and the brilliant opening ceremonies will begin at 9. Then, at 9:25, there will be a wheelchair race followed by the walk and run starting at 9:30. After the physical portion of the event, enjoy the post-event festivities at 10:30. Just like the Dash For Dreams, Walk For Wishes is an optional walk or run 5k. It is free to register, but it is important to start raising pledges early to help grant more wishes! Register now, and contact Andrea Hug for more information.
Learn How To Help Even More
Raising pledges amongst your family, friends and coworkers can sometimes be a difficult task. Even if you do raise a lot of money, you might find yourself looking to help even more. An incredibly easy and hassle-free way to benefit Make-A-Wish Wisconsin in a big way is by donating an unwanted vehicle to Wheels For Wishes.
Free towing and a 100 percent tax-deductible receipt are just two of the ways that this 501(c)(3) nonprofit organization makes donating easy for you. Donate by simply calling 1-877-431-9474 or by filling out the convenient online form. Your pain-free donation will help grant wishes in Wisconsin!

Back to Blog