Tips To Make 2017 The Best Year Yet!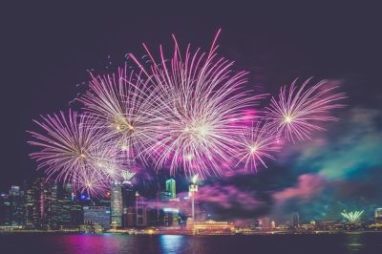 As the New Year starts you will notice the gym getting busier, people quitting a food group or giving up soda, but only 8% of the population actually is able to achieve their resolutions. Interestingly enough only 75% of people are able to maintain their resolution through the first week, 71% are able to achieve two weeks, 64% make it a month and only 46% can make it past six months. Here are some tips to help you achieve your New Year's resolutions. 
Make sure your goal is achievable: One of the most common New Year's resolutions is getting "in shape." Now what does that exactly mean? It could be to lose weight, inches or just become more muscular. This resolution is too broad, so make sure you make it specific to what you want and are looking to achieve.
Take it in stride: Whatever your resolution is, make sure you're keeping track of the days you have started your new habit such as quitting smoking or sweets. By keeping track of the days it will help you see your progress and keep you motivated to keep going. One thing to remember is you can't break bad habits overnight.
Plan: Now most people on New Year's Eve get an idea in their head for a goal and go with it. If you plan out your new year's resolutions and think about how you are going to achieve it, your likelihood of actually making it till the next year goes up greatly.
Tell your friends and family: By telling your loved ones about your goal for the year it will keep you motivated. They will help support you through the tough times when you really want to give up and keep you motivated to keep going.
Is your goal attainable? This means can you actually achieve you're goal. By aiming too high it can cause you to lose interest and become discouraged. Make sure it is a goal that you have been thinking of achieving for a while so you will stay interested in achieving it.
When you slip up, don't give up: We are all human and make mistakes. If you slip up on your diet, skip a day at the gym, or miss a meeting don't give up on your goal. You have 365 days to achieve your goal and messing up should not make you give up. Remember the feeling about how mad you were for slipping up and keep that in mind so you don't do it again. You need to ride through all the bumps and detours so you are able to achieve your end goal.
Organize: Some of us just want to get more organized and clean up some clutter in our lives. This is a great New Year's resolution. If you have a room in your house that could be cleaned out such as a spare bedroom or garage. These can be hard tasks! We have a great way to help clean out your garage.
If you have vehicle such as an ATV, car, boat, truck or even trailer that you no longer use. We have a great opportunity for you! You can donate it to
Wheels For Wishes
benefiting Make-A-Wish. We will pick up the unused vehicle or trailer for free, from your home or a location you prefer. Check out
our chapter locator
and see who we benefit in your area. 
Ready to donate? Call us at 1-877-431-9474 or fill out our
online donation form
. Once that is done, you will receive a call from us within 24 hours to schedule the pickup. Then when your vehicle or trailer is picked up you will receive a receipt to use on your 2017 taxes. 
Make giving back part of your New Year's resolution. Donate today!

Back to Blog