Three Great Events To Benefit Make-A-Wish North Texas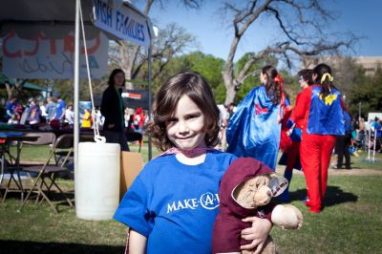 Great food and great fun are planned for Make-A-Wish North Texas this summer, and you can take part when you attend A Three Wish Circus in El Paso, or one of the Delicious Wishes events in either Fort Worth or Frisco.
A Three Wish Circus in El Paso, will be a great opportunity to enjoy this great night out while helping Make-A-Wish North Texas help children with critical illnesses have their wishes come true. The Sept. 10 event is at the EPIC Railyard Event Center (2201 E. Mills Ave.) There will be an auction, entertainment and a chance to meet Wish Kids.
Help Grant Wishes In El Paso
The average cost of a wish is more than $8,000, so attending A Three Wish Circus is vital. Tickets for the event are $120 each, or a table for 10 is $1,200. There are several sponsorship levels if you are interested in getting involved that way: Ring Master ($25,000); Big Top ($20,000); Grandstand ($15,000); Main Ring ($10,000); Under The Stars ($7,500); Trapeze Artist ($5,000); Clown Alley ($2,500). For more information, please contact Natalie Eckberg at neckberg@ntx.wish.org.
Delicious Wishes On Aug. 20 and Sept. 10
If great local food and entertainment are what you look for in a night out, then there are two opportunities at Delicious Wishes. The event in Frisco is on Aug. 20 at Toyota Stadium's River Club by WinStar. Local restaurants will be spotlighted and Josh Goode will be providing live entertainment for the evening.
Delicious Wishes in Fort Worth is on Sept. 10 at Heart of the Ranch at Clearfork. The event features local chefs and breweries serving up unique creations to help grant the wishes of children with critical illnesses. For more information on these two events, contact Lauren Grady.
Continue To Help Make-A-Wish When You Donate Your Car
No matter how you participate in Make-A-Wish North Texas events, your participation is vital. Make-A-Wish North Texas aims to grant more than 500 wishes across their 161 counties that they serve – it's one of the biggest chapters in the country!
If you can't make it to the El Paso area for A Three Wish Circus or the Fort Worth area for either Delicious Wishes event you can help Make-A-Wish North Texas in other ways – and it starts in your garage when you make a vehicle donation this summer. When you donate a vehicle to Wheels For Wishes, you are turning your vehicle into wishes for children with critical illnesses in North Texas.
Plus, the process of donating a vehicle is easy. All you need to do is give us a call at 1-877-431-9474 or donate a car online using our simple donation form. We will pick up your vehicle from anywhere in North Texas and you will receive the maximum possible tax deduction for your donation. Don't hesitate to give us a call. Even if you aren't sure how to donate a car, representatives will walk you through the car donation process and answer any questions you might have. Give us a call today and help make a wish come true for a child in your neighborhood.
Whether you live in Dallas, Lubbock, Plano, Irving, Garland, Waco, Amarillo, Arlington, or anywhere in between, your vehicle donation will help children in your community who are battling critical illnesses. Help them have their wish granted through Make-A-Wish North Texas by donating your car today!

Back to Blog