The My Wish Series Will Warm Your Heart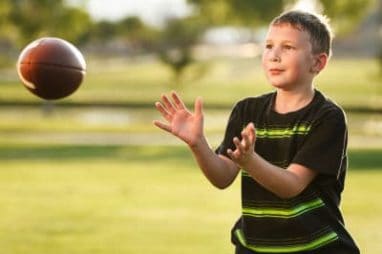 Throughout the year, the chance to meet an athlete is one of the most highly wished-for experiences. Each year ESPN highlights a few of these wishes in the My Wish Series. These touching stories will warm your heart as you see how looking up to athletes has helped these kids through tough times in their lives. Read these stories to meet the kids and teens who were inspired by baseball, gymnastics, football and soccer athletes, and one day each had the wonderful chance to meet their role models.  
Xander Is On The Starting Lineup For The Sounders
Through Make-A-Wish Greater Pennsylvania and West Virginia and the Seattle Sounders, Xander Bailey's wish to become a pro soccer player came true. Cheered on by 55,000 fans, Xander was on the starting line-up next to his hero Clint Dempsey during the friendly game against Tottenham.
Mighty George Is Drafted By Panthers
Meet George Gring, the first pick of the 2014 NFL Make-A-Wish Draft for the Carolina Panthers. Through Make-A-Wish America, George had the once-in-a-lifetime opportunity to meet his favorite player, Cam Newton. After George showed Cam his best game face, they spent the day together getting geared up, practicing on the field and meeting the other players.
Jace Spends The Day With Dustin Pedroia
For his wish, Jace Andrews spent the day at Fenway Park, showing his favorite Red Sox player a thing or two about hitting a ball over the Green Monster. After a day of hanging out together, Jace helped prep the field for the game that night, and even threw the first pitch in front of all the whole stadium.
Stephen Is Recruited For A Day By Dream College
Stephen Loszewski grew up loving the Wolverines and hoped that one day he would be recruited by them. However, his cancer diagnoses during high school stopped his football aspirations in their tracks. That's when Make-A-Wish came in and provided him the experience he had always longed for: the chance to run out onto the field in The Big House with the Wolverines.
Amarissa Practices Gymnastics With Olympic Champion
After she was diagnosed with Lupus, Amarissa was told she couldn't do gymnastics — her passion — anymore. Amarissa fought hard, and a long stay in the hospital helped her immune system get back on track so that she could go home. Not long after, she learned that she would have her one true wish to meet Gabby Douglas granted. Meeting Gabby inspired her, gave her hope and helped her get back to gymnastics. Amarissa's wish experience will stay with her forever. Be sure to watch Amarissa's whole wish story here.
You Can Help Grant Wishes Like These
It's hard not to find these stories uplifting and inspiring. If you want to make more wishes like these come true, you can be a part of the wish-granting experience! Wheels For Wishes, the car donation program benefiting Make-A-Wish, is a great way for you to help grant wishes for children in your community. To donate a car, truck, boat, RV or motorcycle, all you need to do is call 1-877-431-9474 or fill out a car donation form online. Donated vehicles are either recycled or auctioned off, and the proceeds go to your local chapter of Make-A-Wish. Your donation will make a huge difference in the life of a child facing a critical illness. Plus, you receive free towing or pick-up of your vehicle as well as a great tax deduction. If you're inspired to help grant a wish for a child or teen like Xander, Amarissa, Jace, Stephen or George, consider donating your vehicle today! 

Back to Blog