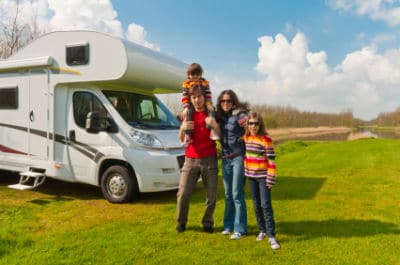 Take Your Last RV Trip Of The Summer Here
As the end of summer rolls in, it's the perfect time to take one last trip in your RV. Depending in which region you live, these RV destinations promise a fun family trip filled with beautiful scenic sights. So pack your family, games and food into the RV, and head to one of these camp sites. 
The West: Fernwood Resort
The Fernwood Resort in Big Sur, Calif. is a beautiful campground surrounded by the world's largest trees. Here you will camp in the midst of redwoods while enjoying the comforts of electricity and water in your RV. The sights are all around you with gorgeous redwoods all over, the Big Sur River flowing through and the beautiful seaside cliffs nearby. Enjoy camping, special activity tents and a lazy float down the river!
The Midwest: Horse Thief Lake Campground
 Located in the midst of practically every tourist attraction in South Dakota, Horse Thief Lake Campground is a quiet escape in the Black Hills. The resort itself covers all basic camping needs and more. The resort features new bath houses, a heated swimming pool, basketball court and a general store for all your basic needs. The best draw of this campsite, however, is all of the attractions nearby. See Mount Rushmore and the Crazy Horse monument. Then watch buffalo roam in Custer State Park and spirited wild mustangs galloping through the Black Hills Wild Horse Sanctuary. These attractions among many more are what make this quiet campground so special.
The South: Boyd's Key West Campground
Travel down to Key West, Fla. and visit Boyd's Campground for a tropical camping experience. Park your RV on the oceanfront with all the convenient amenities you can imagine. You can relax on the beach or dive into the heated swimming pool. Escape the cold up north by enjoying snorkeling, fishing and diving in the beautiful blue ocean. The resort is also nearby Duval Street which is a perfect tourist area, famously spanning from the Gulf of Mexico to the Atlantic Ocean. Camping on the beach may not be typical, but it is a spectacular experience.
The Northeast: Skyway Camping Resort
For a family-oriented resort experience, where everything you need is at the resort; visit the Skyway Camping Resort in Greenfield Park, N.Y. Park your RV in the beautiful green forest for Wi-Fi, cable TV and electricity. The indoor activities include a workout room, toddler room, game room, arcade and a clubhouse. Outdoors, enjoy a huge Olympic-sized swimming pool, hot tub, handball court, basketball court, tennis court, bocce ball, shuffleboard and a dog run area. For more water activities, you can take a paddle boat, kayak or rowboat on the water and even go fishing! 
After The Last RV Trip
After you finish traveling long distances across state lines with your friends and family, you will probably be ready to retire your RV for the year. You might not want to store your huge RV in your driveway or on the street, and you might be looking to get a new one for next year. Before the summer is over, make the decision to donate your RV to Wheels For Wishes.
Whether this was your last family camping trip, or if you are just looking for a new RV, donating your RV is a great way to get rid of it hassle-free. Plus, the proceeds from your generous donation will go toward children's charities—which is a win-win.
As a 501(c)(3) nonprofit organization, Wheels For Wishes makes donating easy by offering free towing and a great tax deduction. Simply find your local chapter, then call 1-855-278-9474 or fill out an online donation form. Your donation will save you lots of time and space while also saving the lives of local children!