Sunflowers For Wishes 2017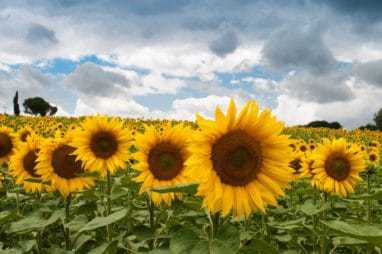 Looking for an event that will be petals of fun? The 14th annual Sunflowers For Wishes will be a beautiful sight. If you live in the Connecticut area come out to Buttonwood Farm, in Griswold, on July 22-30. All proceeds from this event go to Make-A-Wish.
History
This idea began in 2003 when a friends suggested that the Button family plant an acre of sunflowers. When they began to bloom the family found out that people were coming from all around to admire and photograph the field. They weren't sure what to do with the flowers after they reached their prime. So the first year, they used them as feed for their cows. Even though it was a great food source for their cows, they felt there was something more they could be doing.
With this in mind they started "Sunflowers for Wishes" fundraiser benefiting Make-A-Wish Connecticut. The next year 2004 they planted 10 acres of sunflowers which is approximately 300,000 blooms. Every year they have added more and more acres of sunflowers. This year they planted 15 acres of sunflowers, which is about 450,000 flowers.
About The Event
With this event growing each year, they have added more activities and entertainment.
There will be a hay ride through the sunflower field allowing you to see the full beauty of the massive sunflower field.
Beautiful sunflower bouquets are on a first come first serve basis because the demand is so grand, they can no longer reserve them.
Sunflower themed shirts will be available along with notecards, all benefiting Make-A-Wish.
Sunflower ice cream cones are made fresh right on the farm.
There will be additional parking available in one of their fields on Route 201.
You Can Help In A Grander Way
If you are not able to make the event or want to help Make-A-Wish in a larger way, you can donate an unused vehicle to Wheels For Wishes benefiting Make-A-Wish Connecticut. Vehicles such as boats, personal watercrafts, trailers, ATVs, cars, trucks and even RVs can be donated. Our process is fast and easy. All you have to do is fill out our online donation form or give us a call at 1-877-431-9474. Once that is done you will receive a call within 24 hours to schedule your vehicle pick-up. As you're waving your old vehicle goodbye, have faith knowing the proceeds are going to help a local child, as well as you recieving a great tax deduction.

Back to Blog