Summer Mustang Show Helps Wishes Come True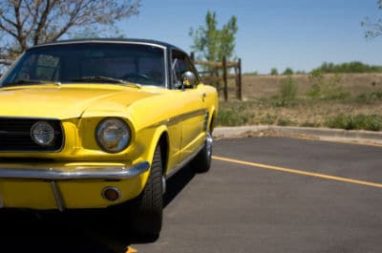 Mustang lovers have an exciting opportunity to help Make-A-Wish Philadelphia, Delaware and Susquehanna Valley this summer. The 7th Annual AmericanMuscle Mustang Show is coming up Aug. 15 at the Maple Grove Raceway (30 Stauffer Park Lane) in Mohnton, Penn. The show features thousands of Ford Mustangs, but it also supports a great cause! Make-A-Wish Philadelphia, Delaware and Susquehanna Valley benefits from the show this year, and you can participate to help make the event a success.
Don't Miss The Action-Packed Day
From 11 a.m. to 5 p.m., come out to enjoy a day of excitement centered around Mustangs. More than 10,000 enthusiasts are expected to attend. The AmericanMuscle show is the largest Mustang-only event in the Northeast.
The show will feature more than 2,500 Mustangs of all different years, colors and models, with show classes such as:
Special Edition Models
2015
2010-2014
2005-2009
1999-2004
1994-1998
1979-1993
Pre-1979
In addition to looking at all the cars, you can also enjoy exciting racing events, other fun events, food vendors, prizes, giveaways, and guest appearances by Chip Foose and Vaughn Gittin Jr. The day will also feature great discounts on car products, aftermarket part vendors, t-shirts and swag bags, and appearances from the AmericanMuscle Girls.
There's no entry fee to attend, but all proceeds from the event will go to benefit Make-A-Wish. The rain date for the show is Aug. 16. For more information about the show, please call 1-866-727-1266 or email carshow.mailbox@turn5.com.
Register Your Mustang By July 31
If you have a Mustang of your own you want to show off, be sure to get it registered by July 31. Check out the registration details on the AmericanMuscle website. Individuals are welcome to register, but car club participation is encouraged as well. Registration is available in any of the show classes listed above. Two trophies will be awarded to each class, and the top of them all will win Best of Show.
Support Make-A-Wish Through Our Car Donation Program
If your Mustang or other car has seen better days and it's time to upgrade, consider donating your unwanted vehicle to Wheels For Wishes to help make wishes come true. Our car donation program benefits Make-A-Wish Philadelphia, Delaware and Susquehanna Valley. We're able to turn most vehicles such as cars, trucks, boats, RVs, and motorcycles into wishes for local kids.
This August, let your unwanted vehicle serve a bigger purpose by donating it to Wheels For Wishes! We offer free pick up or towing, and you get a great tax deduction in return. Plus, we make it easy to donate a car. Just call us at 1-877-431-9474 or fill out our car donation form online.

Back to Blog