5 Ways To Show You Care On Sweetest Day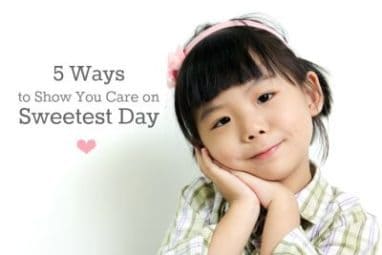 Sweetest Day falls on the third Saturday of October. This year, it's Oct. 15th. You might think of Sweetest Day as just another occasion invented by greeting card companies to increase sales, but its roots are actually much more thoughtful than that. 
Back in the early 1920s, a candy company employee named Herbert Birch Kingston had an idea to bring a little sweetness to people who perhaps didn't have anyone else thinking about them. He and a group of other people decided to deliver candy and gifts to orphans, elderly and disabled people confined to their homes, and other people who may have felt lonely or forgotten. A small gesture of kindness such as this can go a long way.
Over the years, Sweetest Day has grown into a day most people celebrate like Valentine's Day in October. This year, here are a few fun ways to celebrate what Sweetest Day is really all about.
Extend A Helping Hand
Reach out to a neighbor or relative who is homebound. People who have difficulty leaving the house due to their age, an illness or disability can often feel cut off from others. On Sweetest Day, do something special by bringing over a home cooked meal, offering some practical help around the house, or just stopping by for a visit. Another nice gesture might be helping them get started on a new hobby such as drawing, knitting or word puzzles. Making a connection and reminding them you care could mean more than you know.
Help Provide Basic Needs For Homeless People
More than 670,000 Americans are homeless. Many homeless people feel ignored or forgotten, but you can make life better for people in your community by donating your time or basic items to a local shelter. Items such as clean socks and underwear, diapers, toothpaste, soap, Q-tips and hats are almost always needed at charities that help the homeless. You can also make a difference by volunteering your time or talents at a local shelter that may need front desk staff or tutors.
Make A Care Package
One thoughtful way you can help nearly any cause is to make care packages. Care packages can be tailored for children's hospitals, nursing homes, US troops, or even someone you know personally who is recovering from surgery, grieving or moving away. No matter what your cause is, there are countless care package ideas on Pinterest.
Honor Someone In The Community
There are many ways to pay tribute to someone in a lasting way. Local parks, gardens and downtown areas may allow you to buy a paving stone, brick, or even a bench in honor of someone you know. Doing this is a meaningful way to show someone that they impacted your life.
Donate An Unwanted Car
Donating a car to Wheels For Wishes is an effortless way to make a difference for kids in your community. The proceeds from your car donation benefit local chapters of Make-A-Wish, so you can be sure your donation is doing good in the community. On top of helping others, donating a car is also a great way to receive a tax deduction and free towing from nearly anywhere.
To donate your car on Sweetest Day, please call 1-877-431-9474 or fill out an online car donation form now! 

Back to Blog