San Diego Reels In Tuna Challenge 2016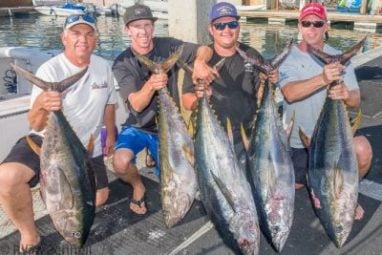 The largest tuna fishing tournament in the U.S. is back in San Diego. The 26th Annual Make-A-Wish Tuna Challenge is seeking to net some support for the worthy cause of granting wishes for children with critical illnesses. This fun three-day event angles hundreds of guests for a wild weekend during which all the proceeds go toward Make-A-Wish San Diego. So seas the day, and learn more about this tuna tournament. 
Tournament History
This event has raised over $3 million throughout the years, granting wishes to children with critical illnesses in San Diego. Last year alone, the event raised over $215,000. Last year, 412 participants made up 91 teams, and caught over 3,500 pounds of fish. This year, over 700 guests will be in attendance and all of the proceeds will benefit Make-A-Wish directly.
Tuna Challenge 2016 Details
From August 26-28, Tuna Challenge 2016 will be casting out at the Silver Gate Yacht Club (2091 Shelter Island Drive, San Diego, Calif.). Competitors that register before July 31 will have a discounted registration fee.
For just $90 for an adult and $30 for a junior angler (15 and under), this weekend event on the water is a great value for both the casual and competitive fisherman. To register, visit the Tuna Challenge registration page, or contact the event coordinator for more information.
Friday, August 28 will feature food and an open bar starting at 4:30 p.m. Come early at 4 to pick up your captain bag and goody bag. At 6, there will be a mandatory captain's meeting which covers all the rules and important fishing information.
On Saturday at 5 a.m., the Tuna Challenge tournament begins. Participants can cast their lines and reel in tuna for what will be any fisherman's dream. Spend the day on the boat with your team while trying to out fish and outwit the competition. Starting at 4 p.m., all eligible fish will be weighed in to see which team will arise victorious.
The awards banquet and auction will be held on Sunday at 10 a.m. Banquet tickets will be $15 and raffle tickets cost $2 each. If you purchase 100 or more tickets, you receive a free Make-A-Wish Tuna Challenge beer glass. The awards banquet will showcase the winners, and the raffle will feature 100 winners and special cash prizes ranging from $100-500.  
Can't Make It? There Are Other Ways To Help!
Don't let sea sickness stop you from joining San Diego in this huge movement to improve the lives of children with critical illnesses. Whether fishing isn't your forte or you just can't make it to the event, you can still help to benefit Make-A-Wish San Diego by donating any unwanted vehicle to Wheels For Wishes.
Even if you can make the tournament, you might leave feeling like you've been on a boat enough in your life. If that's the case, you can donate your boat too! Wheels For Wishes is a nonprofit 501(c)(3) nonprofit organization that offers a great tax deduction upon your donation. You also won't have to worry about transporting your vehicle—we come to you with free towing!
To get started with your hassle-free donation, call 1-877-431-9474 or fill out an online donation form. Join this massive movement to give wish kids hope, strength and joy in San Diego today!  

Back to Blog