Recycle Tires For Cash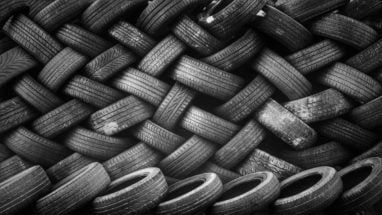 Looking for some extra cash? Believe it or not, recycling tires is a good way to earn some! There are more than a few different ways to make money off used tires. This article will explore all these different ways to recycle tires for cash.
1. Sell Used Tires To A Local Tire Shop
Check with your local tire shops. If they do buy used tires, this is an easy way to recycle your tires for cash. If your tires have sufficient driving life left in them, they'll buy them quickly at a lower price that allows them to profit. You won't get the most possible cash from this. However, it is likely the fastest and easiest option for recycling tires for cash.
Tires are banned from most landfills because they are a breeding ground for pests. As a result, many tires shops are forced to keep the old tires when someone gets theirs replaced. If you want to take your tire recycling to the next level, you can offer to haul away tires for local tire shops. Some may take you up on it. Some may even pay for you to do it.  
Before you fill up your truck or trailer with tires, make sure you know somewhere in town that will pay for them. Also, check local laws to see if you need a permit to do this. If there is a local place that will pay for tires, you can make more money in one trip by having more tires.
2. Recycling Centers Pay For Used Tires
Call your local recycling centers to see if they pay cash or accept use tires for free. If your used tires are no longer usable, recycling centers are a good option. That's because they may still pay you per tire. Whether you just have a set of old tires, or you hauled a load from your local tire shop, some recycling centers can be a fast way to make some extra cash.
3. Sell Your Used Tires To A Retread Facility
This option is most popular with semi truck tires. However, it's not exclusive to those. You can check the Retread Tires Buyer's Guide to see if there is a retread facility near you. If your tire is still repairable, you can make money off it! The better the quality, the more money you can make. Usually, a tire in great condition can earn you up to $40. It depends on the pricing and policy of your local retread facility.
4. Get Cash For Used Tires Online
You can usually get the most money from your tires by selling them direct. Online resources can help speed up the process. Post your used tires on one of these local online marketplaces:
Craigslist
Facebook Marketplace
OfferUp
Letgo
5. Upcycle Your Used Tires
Upcycling is a great way to create something of more value than the original. You can turn your old used tires into almost anything! Search for ideas online, and turn your tires into something valuable! You can even sell your upcycled creations for a profit!
6. Get Paid To Recycle Other Car Parts
If your tires are attached to rims you no longer need, there's another opportunity for cash! Most rims are made of aluminum, which can be recycled by the pound for cash. You can sell rims fast! What about the rest of the car? If you have an unwanted car to sell or recycle, consider Wheels For Wishes.
We accept most vehicle donations, running or not.
We come to you with free towing.
You get a 100 percent tax-deductible receipt with your donation. It pays to donate!
Your donation benefits Make-A-Wish. Local kids facing critical illness get to experience a life-changing wish!
All you need to do to donate is call 1-877-431-9474 or fill out an online donation form. Recycle your tires and donate your car today!  

Back to Blog